This month
Hello SUNshine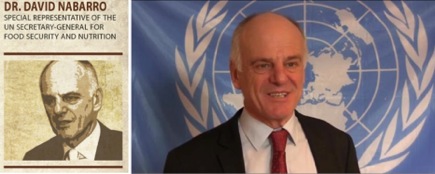 David Nabarro (above) once SARS Czar, has held many various UN posts reporting to UN secretary general. His task now is to make SUN shine
Access Claudio Schuftan's column here
Access Philip James's column here
Access Reggie Annan's column here
Access Geoffrey Cannon's column here
Access WN editorial on fortification here
Access WN commentary on fortification here
Access WN commentary on The Food System here
All four of our columnists, Claudio Schuftan, Philip James, Reggie Annan and Geoffrey Cannon, are featured this month: access them above.
Rays of SUNshine
In his column written from Bangkok, Claudio Schuftan reports on a meeting he and fellow Association member David Sanders had with David Nabarro, the Scaling Up Nutrition (SUN) initiative coordinator. Claudio writes: 'He gave us a history of his personal involvement with SUN since 2009. He said he accepted the job of SUN co-ordinator provided he could counter the overwhelming technical approach of the early proposals by the World Bank for SUN. He said that he has always been "a social determinants man". The job has not been easy, but he felt progress has been made. He insisted that human rights and breastfeeding issues have always been important to him.
'In response to our concern that there is undue pressure from donor countries and from industry, he said that actually 70 per cent of the budget of SUN will be for preventive interventions. He said that, at a global level, SUN has no role in the promotion of ready-to-use therapeutic foods. We emphasised that the SUN decision-making process needed to include public interest civil society organisations and social movements, and that so-called non-government organisations closely linked with or mainly funded by industry should not be admitted as if they were independent. We finally added that our network will be keeping a critical eye on the SUN's beams. He thanked us and promised to stay in touch'.
Cancer in Africa
Writing from Kumasi on the occasion of World Cancer Day, Reggie Annan summarised the speech given by WHO regional director for Africa Luis Gomes Sambo, an Angolan citizen. He said: 'The chances of developing most cancers is related to modifiable risk factors such as tobacco use, unhealthy diet, and harmful use of alcohol, physical inactivity, overweight and some chronic infections'. He continued: 'Cancer kills many people in the African region. It is estimated that about 12.4% of the African region's 804 million inhabitants will develop cancer before the age of 75. If we act now we can save about 100,000 lives annually by 2020'. But in Africa many people with cancer 'are diagnosed at advanced stages due to the lack of awareness and the weakness of early diagnostic capacities in our countries'.
Reggie Annan adds: 'From my experience of living and working in Africa, I can confirm that this is very true. Very few people, even among highly educated persons, regularly have medical check-up. People usually visit medical facilities when they are unwell. Thus it is highly unlikely for people to know if they do have any disease including cancer until the disease is at an advanced stage, when very little can be done to reverse it'.
Can it be best to be small?

Reasons to be small. Left to right: Pandurang Sukhatme and John Waterlow, and also François-Marie Arouet (Voltaire), Yuri Gagarin, Sachin Tendulkar
This month in his column written from São Paulo, Geoffrey Cannon summarises some of the reasons why on the whole it is best to be small. His view of the overall evidence, environmental as well as biological, is supported by the position taken by eminent Indian and UK scientists Pandurang Sukhatme and John Waterlow (left, above) and in their work and lives (to the right, above) by the French philosopher François-Marie Arouet (Voltaire), the Russian astronaut Yuri Gagarin, and the Indian cricketer Sachin Tendulkar. Moreover, WHO director-general Margaret Chan from China (in the middle of the picture below) though perhaps 'stunted' by conventional standards, seems to be doing a pretty good job, as has Kul Gautam from Nepal (two to her right), until recently assistant secretary general of the United Nations and UNICEF deputy executive director.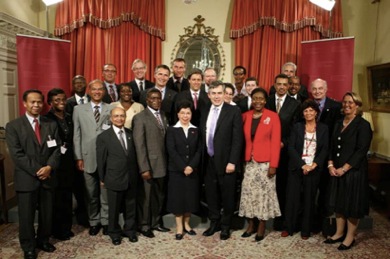 Go forth and fortify
The first WN commentary this month is on food fortification, and in particular the addition of folic acid to flour supplies as required by law, to prevent spina bifida and other neural tube defects. This policy has proved to be highly contentious. The commentary is adapted from a chapter in his new book Food Fortification. The Evidence, Ethics and Politics of Adding Nutrients to Food, by Association founder member Mark Lawrence of Deakin University in Melbourne, Australia.

In his member's profile, Mark says: 'I work at a university-based food policy unit whose goal is to reform food policies and regulations so as to improve the structure and operation of food systems so as to protect and promote environmental, economic, social and health outcomes. If we better understand policy-making, we are better placed to integrate public health nutrition considerations into decision-making processes and therefore improve policy outcomes. Many colleagues here work in disciplines such as law, environmental science and economics that complement public health nutrition. They are providing the expertise to review legislation, and to understand where to intervene in components of the food system and develop cost-effective policy solutions'.
The neigh-sayers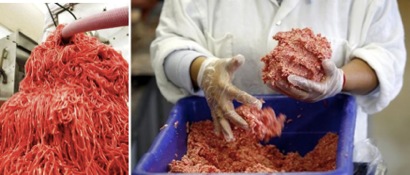 Now people are beginning to get some idea of where the 'meat' in cheap animal-based products comes from, sales of fresh meat have been booming
The second WN commentary this month continues the The Food System series, by Carlos Monteiro and the team at the University of São Paulo. The food manufacturing industry and its apologists are now responding to the charge that ultra-processing is a public health problem. They are saying that as long as selected chemical contents of food products on analysis are much the same as freshly prepared meals based on food, there's no difference and no problem. Presumably this includes all sorts of cheap meat products whose ingredients include extruded scraps and remnants such as those shown here, which were originally bits and pieces from cows, or pigs…. Or horses... Read on….
2013 March HP7. This month
The new nutrition. Hello SUNshine
Respond below please