I get around
Jean-Claude Moubarac

Access Jean-Claude Moubarac's profile here

I get around
In this issue here, we continue our regular 'I get around' series. Every month, Association members will tell stories of where they are, what they are doing, who they have met, and why they believe or hope they are doing valuable work. This month it's Jean-Claude Moubarac on his recent adventure trip to Colombia
Jean-Claude Moubarac writes: My wife, Leidy Hernandez Villarraga, is from Bogota, in Colombia. During this New Year's vacation we visited her family. Our trips to Colombia are unusual because we spend most of our time with the family in places where tourists normally don't end up.This time was no different. In the course of two weeks, we travelled across the beautiful Andean region and stopped in different cities and villages to meet all of Leidy's relatives. We shared a lot of meals, stories and activities together. The most fun part is that our trip was completely unexpected; we surprised the whole family on New Year's Eve! Our adventure is a perfect pretext to talk about the unique features of Colombian cuisine and its people's traditions.
From Bogota to Lerida
The Colombian Andean region is divided into three mountain ranges (Western, Central and Eastern) and concentrates the majority of the country's population. Here are the big cities of Bogota, Medellin and Cali, as well as small cities and villages where we spent most of our time. Leidy´s family enjoy spending the holiday season away from the noisy and cold climate of Bogota city. They prefer the semi-tropical climate of the cities and villages found in the lower slopes of the Andean region.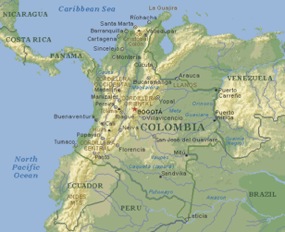 Here is Colombia. Beginning in Brazil, our adventure started in Bogota (in the Eastern Mountains) and ended in Medellin (in the Western Mountains)
Our adventure started as we left São Paulo on 29 December and arrived at Bogota airport the next day. Straight from the airport we took a cab to the bus station, where thousands of Colombians were looking for buses to get out of Bogota. Our intention was to find a bus that would take us to Lerida, a small village located in the Tolima department of the Eastern Mountains, where Leidy´s parents built a lovely country house. Small problem: there was no bus going there that day!
After a couple of hours running around and trying to find a way out, we found two last places on a bus that got us to Lebanon, located half an hour away from Lerida. Close enough, I said to Leidy, we'll take it! We had the chance (!)to sit up front with the bus driver, and had to share one seat belt. Good start for an unexpected adventure! We called Leidy's parents from our laptop as we were leaving and told them we were going to Rio de Janeiro for the weekend. This little white lie of course was intended to make our surprise visit even bigger…
We travelled for about four hours across the Eastern Mountain and the view was astonishing. The climate of the region is semi-tropical, with different thermal floors that provide ideal conditions for agricultural richness, allowing the production of coffee, flowers, cacao, and fruits. It also has great fauna diversity. On the way we stopped in a local asadero for a lunch where we enjoyed a typical rich plate of potato, plantains, meats, and vegetables, all freshly cooked on the grill.
Just as we were approaching Lebanon, we experienced a small technical problem. A flat tyre, like it often happens. We had to hop in another bus, also full of travellers,so we were like 20 people in a bus that usually seated 10 people! Our second bus ride ended at a crossroads and we took a cab to Lerida, for our surprise visit. Lerida is located near the Magdalena River, which flows from south to north across almost all of the country and empties into the Caribbean. You may recognise the name of this river from the lyrics of the song by the Colombian world-famous artist Shakira.
Leidy´s sisters, parents and her grand-mother were simply astonished to see us. How could we have got from São Paulo to Lerida, a place where no tourist ever goes and especially at a time where buses are fully loaded? Everyone was overwhelmed with feelings of joy and excitement. Especially Leidy´s mother, lovely as always, who couldn't stop smiling. This is the best Christmas gift ever, she told us. We sat down finally, resting with a cup of freshly press lemon juice.

Here (picture left) I am with Leidy 's family sharing a dinner at the country house at Lerida (Tolima)and (right) tamales typically eaten at breakfast
The family house in Lerida has a beautiful garden filled with mango and tangerine trees. It also has a new pool, which we enjoyed the whole week-end. The living house is an open terrace with the dinner table at the centre, where all the meals are shared and most of the time is spent telling stories (see picture above). This night we enjoyed a meal of pork chops cooked in a pineapple sauce, over rice (always a side dish in Colombia), a salad of fresh vegetables, and some delicious fried plantain. Leidy´s father is always proud to tell me about his hunting stories, of which many testimonials are featured on the wall in front of the dinner table, including a jaguar skin.
The next morning we woke up to the sound of the rooster, and had one of Colombia's unique breakfasts. This was a bowl of soup made of potatoes, eggs and meat, accompanied with arepas (a ground corn dough or cooked flour which resemble the tortilla that is served with almost all dishes and meals). Colombians also often eat tamales (picture above) in the morning; these can be found on almost all traditional restaurant menus. While tamales vary from region to region, the basics are a filling of chicken, pork, boiled egg, carrots, peas, potatoes, rice, condiments, and dough, all wrapped with plantain leaves. In the Tolima region, tamales are eaten for breakfast with hot chocolate and arepas.
During our stay, Leidy's grandmother made us buñuelos. Colombian buñuelos are a type of pastry hand made with farmer´s cheese, milk, egg, flour, sugar and salt, and then fried in oil. They are enjoyed all over Latin America in different forms, but Colombian ones are much less sweet than some of the other variations. Buñuelos are quite energy-dense and are traditionally eaten on special occasions and festivities like Christmas when they are served with natilla (a type of pudding made with corn flour and dried raisins). In the picture below, we see Leidy's grandmother preparing buñuelos. These were so delicious.

Here (picture left) is Leidy's grandmother making buñuelos and (right)
the end product, which are enjoyed on special occasions and festivities
New Year's in La Dorada
Two days later, we hopped into the family jeep and travelled two hours north along the Magdalena River to La Dorada, located in the department of Caldas. There, we stayed at one of Leidy´s aunt's house and spent New Year's Eve with Leidy's extended family: her six aunts and uncles, cousins, and grandmothers. One thing I always found marvellous about Colombians is their unique sense of warmth, generosity and most of all, their eternal smile.This goes pretty well with the climate of La Dorada, which is very humid and usually above 30-35 Celsius.
This time of the year is very unique, especially for Leidy, and her sisters who live in Canada. They enjoy spending time with their cousins, all of whom are about the same age.We enjoyed all together decorating the house full of balloons and preparing dishes and desserts (everyone had to bring something). Leidy made a delicious natilla.
However, the main attraction was the famous lechona. This is a popular Colombia dish traditional to the Tolima department. As seen in the picture below, lechona is pork (preferably the whole pig!) filled with rice, yellow peas, green onions and spices, cooked in an outdoor brick oven for about ten hours. It is ordered days in advances and home delivered on New Year's day and placed on the table where it stays hot for long hours.

Here (left) is the typical Lechona freshly delivered and (right) the plate as it is served; rice, pork and peas filling, crispy skin, with arepas and insulsos
According to the folk tale, only one person is allowed to serve the lechona meal, otherwise it goes bad. The crispy pork skin and moist stuffing are served with traditional Colombian side dishes like arepas and insulsos (a sweet dish made of starchy dough and usually corn based, steamed or boiled in a plantain leaf wrapper). Lechona is a shared feast dish eaten at a time when people come together. Because it´s huge, the leftovers (which taste even better than the day before) are eaten the next day for breakfast, and what´s left is then divided and distributed among the extended family.
During the evening we enjoyed live music from a mariachi band that was playing inside the house. We also celebrated both Leidy´s grandmother's and mother's birthdays. The atmosphere was electric! On the sound of midnight we set off fireworks in the streets (a custom in Colombia) and burnt the muñeco Añoviejo, a puppet representing the year ending made with old clothes, cardboard or paper, stuffed with straw or sawdust and often with fireworks. As seen in the picture below, this year's puppet was an old lady, dressed with cheap clothes and jewellery.
Here (picture left) is Leidy's mother and her birthday cake , and (right) the puppet (Muñeco Añoviejo) that we burned at New's Year's Eve midnight
Off to the farm
The next day, all the family travelled to another farm, owned by one of Leidy´s aunts. This farm is located in Villa de Puerto Boyaca, still in the Caldas department. The farm production is mainly of fruits and cow's milk.Unlike most Canadian farms, cattle are not kept in a barn but are free to enjoy the hundreds of acres of land. There was also horses, ducks, and turkeys. It was a typical farm apart from one thing. Because the farm is in a semi-tropical climate, there were also parrots and macaws. Cows and macaws together, that´s unusual for me as a Canadian.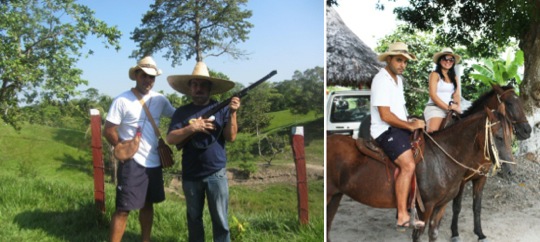 Here (picture left) I am, with Leidy´s father and with hunting gear, and
(right) Leidy and I are riding horses, in the family ranch at Puerto Boyaca
In and around the farm we enjoyed a lot of activities with Leidy's cousins: rafting in the nearby river Rio Claro, horseback riding, and milking the cows. I even had the chance to go duck hunting with Leidy´s father and uncle. In the picture above, you see us dressed like paisa (people from the region), getting our hunting gear ready.
My favourite activity of all was what is called rodear, which is bringing calves from the land back into the barn. This is done in order to milk the cows. To do this, we ride the horses in the direction of the cows to separate the calves from their mothers. This is quite a bumpy operation. Then, we ride the horses into the direction of the calves that run all together into the barn. Of course, some of them eventually tried to escape to make their way back to the cows so we had to chase them around on horses. I felt like a true cowboy!
Being at the farm was also the occasion to get closer to a more traditional way of preparing food. Usually, we buy all food from the grocery store and it already comes minimally processed: the chicken has been cleaned and cut for us. This time, however, we did everything from scratch. One day we went in a nearby farm and bought two chickens. Back to the farm we broke their necks, plucked them, cleaned them, cut them into pieces, and finally, cooked them. It's good once in a while to come close to nature and to the real way food is obtained from it.
Leidy´s aunt prepared that day a sancocho, a traditional soup dish made with plantain, potato, yucca (manioc), and vegetables like tomato, scallion, cilantro, and corn, and various types of meats (depending on the regions) including chicken and beef, but also fish and tails. The dish is often topped with fresh cilantro, onion, avocado, and squeezed lime, and served with a plate of white rice on the side, which is usually dipped in with each spoonful of soup. Sancocho is a complete and nutritious dish.
And some work in Medellin
After this amazing week of vacation, we headed our way westward to the city of Medellin to get some work done.We took the only bus available that day. In the bus right next to us was a woman travelling with a baby rooster in a handbag, and a box of chicks underneath her seat. Needless to say, our trip was in surround sound between the chicks chirping and the music playing in the bus at an impressive volume. The air conditioning wasn't working so it felt like being in a loud sauna.
Medellin is a lovely colourful city located in a valley with an enjoyable sub-tropical climate. Because of the pleasant spring like climate all year, Medellin is known as La Ciudad de la Eterna Primavera (City of the Eternal Spring). There, Christmas season opens with the exposition of the world famous alumbrados, highly developed structures that illuminates the streets of the city. In the picture below, you can see the alumbrados of the La Playa Street, in downtown Medellin.

Here (left) are the famous alumbrados which illuminate each year the city
of Medellin. And (right) are colleagues from the University of Antioquia
Our research team at the University of São Paulo in Brazil is collaborating with two young researchers at the University of Antioquia, Catalina Arango and Christina Meija, seen in the picture above. With them, we are analysing the Colombian household food expenditure survey of 2006 to study the consumption patterns of ultra-processed food and drink products. This is a fascinating case study. As witness through our two weeks adventure, Colombia like Brazil has a rich tradition of varied meals and dishes prepared with fruits, roots and tubers, vegetables, grains, meats, and culinary ingredients. We suspect this may explain why Colombia has still a prevalence of obesity which is relatively low, at 13.7 per cent.
Our preliminary data presented in box 1 below show the great difference between consumption of processed and ultra-processed products in Colombia, and other western countries like Canada and the UK. Nevertheless, products like soft drinks, candies, chocolates, pastries, and other snacks, along with new products like pre-prepared arepas and buñuelos, are already displacing the traditional dietary patterns of Colombia, and prevalence of obesity in the country is rising.
Box 1
Consumption of processed and ultra-processed
products in Colombia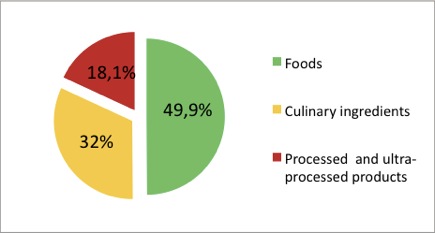 The share of dietary energy from types of food item purchased in Colombia (2006): most is still meals and dishes freshly prepared from foods and culinary ingredients
Our team at the University of São Paulo is currently working with Colombian colleagues from the University of Antioquia in Medellin. Together we are analysing the 2006 household food expenditure survey of Colombia. These data show that Colombian dietary patterns still rely on the preparation and cooking of dishes and meals, from foods and culinary ingredients. Like in Brazil, Colombian traditional cuisine is rich and varied, with a high consumption of fresh foods like fruits, grains, potato, yucca, plantains, eggs, as well as meats and milk. Of course the Colombian dietary patterns are not perfect. Colombians uses too much panela (brown sugar) to sweeten coffee and juices. They also use a lot of salt in dishes. Vegetable consumption is still low. However, consumption of processed and ultra-processed products is still quite low in Colombia at 18.1 per cent of total calories, unlike Canada and UK where these products make most of the diet (61.7 and 63.4 per cent respectively). We believe this may explain why obesity rates in Colombia (13.7 per cent) are much lower than in Canada (24 per cent) and the UK (25 per cent). Our upcoming studies in Colombia and elsewhere will shed more light on this thesis.
Connection in Panama City
On our way back to Brazil, we had a 8 hours connection wait in Panama City. We took the opportunity to take a tour to the Panama Canal. The 77.1 kilometer long cut connecting the Atlantic Ocean by way of the Caribbean Sea to the Pacific Ocean was started by the French in 1881 and later finished by the USA in 1914. Ownership of the territory Panama Canal was first Colombian, then French, and then by the US, before coming under the control of the Panamanian government in 1999. It is a very impressive construction, of especially when you have the chance to see a boat coming through it, as seen in the picture below.

Here (left) is a boat passing through the Panama Canal and (right) a Kuna woman selling jewellery in an arts and crafts shop. This was a great trip
Our tour also included a stop at a local shop where Kuna people exposed their unique art and craft work. Kunas originally lived in what is now Colombia at the time of the Spanish invasion, and later began to move westward towards into Panama. There are known for the confection of molas, brightly coloured garments intricately sewn with various designs and colours. Also, women's creativity finds expression in the originality of bird and fishbone necklaces and bracelets, as seen in the picture above.
Our two weeks trip was a memorable adventure. Colombia is truly a land of warm climate, delicious foods and beautiful people. You'll be delighted if you ever have the chance to visit.
2013 March HP6 I get around
Respond below please