As I see it
Philip James

Mexico City. Working here for a substantial part of August with colleagues with whom I first collaborated in the 1980s, I have been horrified by what I have seen and experienced in Mexico City this time. When I first came here in the late 1960s I was presenting my first research results from Jamaica on albumin metabolism in malnourished children (1). At that time I was also witnessing the erudition of the globally renowned Mexican paediatric leaders. These were the delightful, incisive and intensely concerned Joaquin Cravioto (left, in the pictures below) and Silvestre Frenk (right, receiving a public health award in 2009), who is the father of Julio Frenk, the previous Minister of Health and now Dean of the Harvard School of Public Health.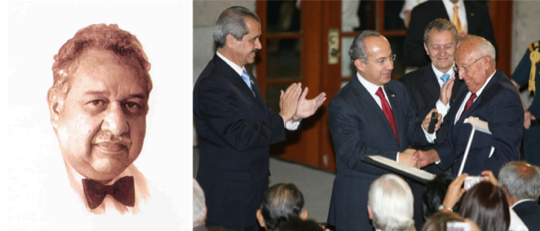 Joaquin Cravioto, master of Mexican malnutrition (left); and Silvestre Frenk given an award by previous Mexican president Felipe Calderon, 2009 (right)
Joaquin Cravioto was the genius who identified and emphasised the mental handicaps that are a consequence of childhood malnutrition (2). He came to Jamaica as part of a programme designed to work out culturally unbiased tests of mental function in malnourished and recovering children (3). This work was the forerunner of Sally Grantham-McGregor and Susan Walker's now classic studies on the particular importance of mental stimulation and emotional support as well as adequate nutrition in the rehabilitation of malnourished children, and its long term benefits (4,5).
Shocking obesity in Mexico
After many visits in the intervening years, who would have guessed that I would return to find Mexican children and adults in perhaps a worse state of health than nearly half a century ago? I began to see at first-hand that the social and economic as well as the nutritional environment, now so radically different, remain a huge handicap for Mexicans. When I was here last year it was for an acclaimed Latin American conference for health ministers. They all were anxious to highlight the importance of the then impending high-level meeting at UN headquarters in New York. Childhood and adult obesity rates in Mexico are now at extraordinary levels, practically the highest in any large country and roughly the same now as in the US, while poverty remains so common in the Mexican population. The ministers demanded action (6).

A century ago, Mexican peasants were lean, as shown in Diego Rivera's commemoration of Emiliano Zapata (left). Now, obesity is rampant (right)
So I was expecting now to see major changes which would defy my earlier concern that Vicente Fox, previous chief executive of Coca-Cola in Mexico, had been the nation's president from 2000 to 2006 (picture below, left). Silvestre's son Julio Frenk in his time as Mexican Minister of Health undertook major changes in improving health services for poor people (7), and colleagues in public health and nutrition have fought for reform. But it is perhaps not surprising that there was no governmental drive that I know of, attempting to change the food systems and supplies of the country, despite the overwhelming evidence that such measures are known to be effective and the attempts of those in public health to initiate such changes..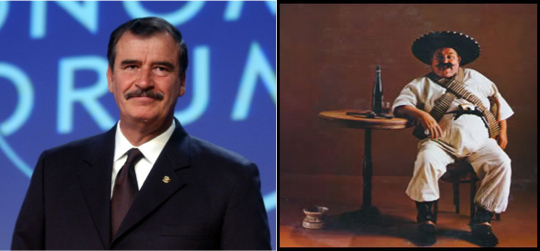 Vicente Fox, ex Coca-Cola executive, who was Mexican president 2000-2006 (left). This century (right) rates of childhood and adult obesity have rocketed
I was also looking forward to seeing the early impact of Mexican initiatives to combat the evident awful public health effects of NAFTA (the North American Free Trade Agreement) signed in 1994. This has resulted in Mexico being flooded with cheap – and often subsidised – poor quality versions of US fast food and soft drinks. Mexicans now drink more Coca-Cola per head than people in the US or any other country. Correspondingly, traditional and long-established food systems and dietary patterns have broken down.
Now, however, in Mexico I found an appalling disregard for any health concerns. This was evident in everyday generally available food, almost a caricature of what is available everywhere in the US. It was also shockingly obvious in the congress ondiabetes and nutrition at which I was asked to speak on my visit this time. I had been asked to talk about public health and the needs of those at most risk with both diabetes and pre-existing cardiovascular disease. Its rather shabby lecture theatre was surrounded by numerous plush junk food stalls and an advertising blizzard for fast food and drink products.
Nearly all the products on the food stalls, together with the flagrant marketing of many different drugs of debatable efficacy, would – or should – have been deemed totally unsuitable for any Mexican, let alone those with diabetes and other major medical conditions. What confronted me was the disjunction between Mexican practice, and the current cascade of new recommendations for population changes in dietary patterns and personal diet, coming from UN agencies, national governments, and other authoritative sources.
More and more advice
Those of us who live in a policy-drenched world may feel that at last the nutrition and food world is being recognised as important, at least on paper. In response perhaps to the realities in Mexico and in several Asian countries I have visited in the last few months, we are now being assailed by a real drive from UN and other authoritative organisations with advice on both policy and practice. You may have missed some of these.
The World Health Organization has now produced the latest version of the revised goals to prevent and control chronic non-communicable diseases, agreed by member states this year in May at the last World Health Assembly (8).
We also have the WHO agreed nutritional messages specifying goals for improving maternal and child nutrition, with targets for reducing the prevalence of stunting (as well as anaemia and low birth weight) (0). This is an interesting development. It links stunting with overweight. It confronts the confusion generated by only thinking about children who were too short for their age as being in need of extra food, when actually policies once put into action were making stunted children fat, rather than focussing on the quality of their diet and the need to combat recurrent infections and their impact on child growth and health.
The European Region of WHO has also produced its own new goals (10). These however, follow the relatively crude analysis which first emerged for the UN high level meeting. They focus on eliminating trans fat and reducing salt consumption only, rather than also thinking about the broader issues of fat and sugar as set out in what remains the most authoritative 2003 WHO '916' report (11). But the WHO European report is important: it highlights that we should recognise and confront the social and economic drivers of risk.
New analyses are showing that preventive measures are usually just as important if not more important as treatment strategies for chronic non-communicable diseases. As I wrote this,Simon Capewell, who we welcome this month as an Association member, sent me his impressive findings on the remarkable improvements in chronic disease morbidity and mortality in Western countries over the last 30 years (12).
But the big question is: how can we in the profession, first reconcile and integrate all these remarkable new findings and recommendations on what needs to be done, and second, actually persuade politicians and society in general that it really is time to act?
What then is to be done?
It is not only politicians and citizens that need to be persuaded. In April I felt encouraged by the avoidance of the industrial manipulation of both professionals and the public in the World Nutrition Rio2012 conference. But a few months later in Mexico, the issue that confronted me was: how do we in public health nutrition get the medical profession, particularly in the 'emerging market economies' to take on what should be their leadership role, in countering the inappropriate manufacturing and marketing practices of both the food product and pharmaceutical corporations?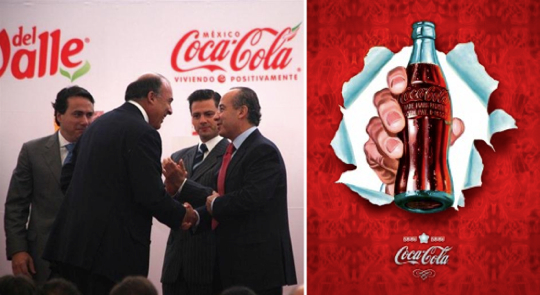 Coca-Cola president Muhtar Kent opening a new $US 1 billion bottling plant in Mexico in 2009 (at left); and (right) advertising for Coca-Cola in Mexico
I saw no evidence of any of this thinking in Mexico. At the conference I spoke at in August, I was accosted by lay people who had come in specially to discover how they and their families and communities could cope in their attempts to deal with their obesity and avoid diabetes. They demanded that I explain to them why I had given a lecture on appropriate nutrient goals, how to implement these personally and how to change population behaviour by policy measures recognised by analyses of preventive policies to be effective. They were angry. They asked me how could I justify speaking in a major conference with the formal backing of the Mexican and Latin American diabetes and nutrition societies when all they saw after my lecture were stalls advertising and pressuring them to buy inappropriate foods and to start taking drugs ?
I was stumped for an answer. I had never been to such an appalling display of crude intense marketing of completely inappropriate junk food in all my life. I began to gather that this was considered the norm not only in Mexico generally but also in medical conferences of nutrition and diabetes. I was left amazed at the failure of the Mexican medical establishment to make a stand. All this was in the immediate environment of the Mexican World Trade Centre
Then when I visited the distinguished Zubiran National Nutrition Institute in Mexico City, I discovered the enormous trauma and documented stress to which almost the whole Mexican population is subject. I slowly learned that detrimental social, economic and environmental conditions do not simply operate on people's dietary choices and ability to undertake physical activity. These bear down on their whole lives.The sheer stress of daily Mexican life now, is of a dimension which interacts with dietary issues in a way which is obviously of immense importance with the famous global Interheart cardiovascular study analyses showing that psychosocial stress makes a greater contribution to the risk of heart attacks in Mexico and other Latin American countries than in the rest of the world (13). This is a topic for a column for another month.
Meanwhile, back in London...
I should not give you the impression that all is sorted out back home. In Mexico I was also able to watch some of the 2012 Olympic Games transmitted by the 'official' Mexican channel. Unlike fortunate BBC viewers, I was bombarded by endless advertising for sugared soft drinks and fast food, including from the official sponsors whose activities were recorded on this website last month, and also advertisements for numerous drugs including statins to bring my cholesterol level down.
References
James WPT, Hay A. Albumin metabolism: effect of the nutritional state and the dietary protein intake. Journal of Clinical Investigation 1968, 47, 1958 1972
Cravioto J, Delicardie ER. Mental performance in school age children. Findings after recovery from early severe malnutrition. Am J Dis Child. 1970, 120:404-410.
Birch HG, Pinero C, Alcalde E, Toca T, Cravioto J. Relation of kwashiorkor in early childhood and intelligence at school age. Pediatr. Res.1971, 5: 579.
Grantham-McGregor S, Schofield W, Powell C. Development of severely malnourished children who received psycho-social stimulation: six year follow-up. Pediatrics 1987;79: 247-254.
Walker SP, Chang SM, Vera-Hernández M, Grantham-McGregor S. Early childhood stimulation benefits adult competence and reduces violent behavior. Pediatrics 2011, 127:849-857.
See: http://new.paho.org/hq/index.php?option=com_content&view= article&id=5102&Itemid=1926&lang=en).
Frenk J. Bridging the divide: global lessons from evidence-based health policy in Mexico. The Lancet 2006; 368: 954-961.
See http://www.who.int/nmh/events/2012/discussion_paper3.pdf
See http://www.who.int/nutrition/events/2012_proposed_globaltargets_ backgroundpaper.pdf.
See http://www.euro.who.int/__data/assets/pdf_file/0019/170155 /e96638.pdf.
World Health Organization. Diet, Nutrition and the Prevention of Chronic Diseases. Report of a Joint WHO/FAO Expert Consultation. WHO technical report series 916. Geneva: World Health Organization, 2003.
Ford ES, Capewell S. Proportion of the decline in cardiovascular mortality disease due to prevention versus treatment: public health versus clinical care. Ann Rev Public Health. 2011; 32: 5-22.
Lanas F, Avezum A, Bautista LE, Diaz R, Luna M, Islam S, Yusuf S. Interheart investigators in Latin America. Risk factors for acute myocardial infarction in Latin America: the Interheart Latin American study. Circulation. 2007; 115: 1067-74.
2012 September. As I see it: Philip James
Respond below please