World Nutrition Rio 2012
Enjoy a marvellous visit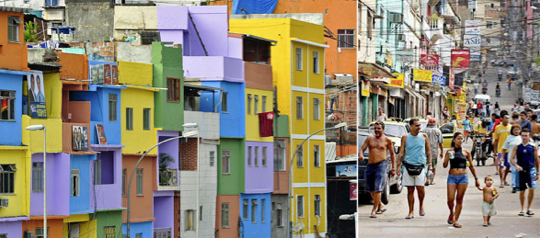 Scenes in Rocinha, Rio's largest favela with maybe a population of 125,000 or more, with its own banks, stores, culture and long established communities
Local tips for your visit to Rio de Janeiro
This month we feature some more tips from Rio citizens Fabio Gomes and Isabela Sattamini: getting around, the best form of transport, non-touristic strolls.
Access Fabio and Isabela on Rio by day here
Access Fabio and Isabela on Rio by night here

Fabio Gomes and Isabela Sattamini report: Welcome to Rio! This month we are writing for everybody who is participating in Rio2012 who has made the smart decision to enjoy the city, during and most of all after our conference. For Rio by night, click above. As cariocas (natives of Rio) we know our way around, and have some basic tips for you which may not be clear from tourist guides. Also, Rio2012 offers field trips free of charge with transportation and translation included. These start before the congress, so we hope you have booked already!
Getting around
Like any other big city, transport in Rio includes taxis, buses and a metro. The city also has urban and suburban railways, and ferries. The most important special feature of Rio, is its length – around 50 kilometres from end to end – and the steep hills and even mountains, and long tunnels, within the city itself. As a result traffic can be jammed, especially in the week following Rio2012 which includes May Day.
Our first advice is, do not hire a car. Parking is not easy and the traffic will drive you crazy. Taxis (avoid touts, use the licensed yellow taxis) and public transport are the right choices. When you take a trip within the city any distance from where you are staying, by yourself or with fellow Rio2012 participants, check with the concierge of your hotel how long it will take. You may feel safer in taxis, but provided you take obvious precautions, like dressing casually without jewellery or cameras in sight, and with minimum money and cards, it's very unlikely these days that you will have a bad experience at daytime, however you travel or when you are walking around. At night just be rather more careful, as you would be in any strange city.
The subway metro is the fastest means of transportation in Rio, and is the best way to get from the centre of the city where many hotels are, to Rio's beaches. The stations are smart and some – Ipanema, for example – have exhibitions of art. Tickets cost US$ 2. The closest station to the congress venue is called Maracanã, after the vast soccer stadium which is close by.
If you want to see the city from its people's perspective, take an urban train from its famous Central Station (featured in the movie Central do Brasil starring Fernanda Montenegro), towards Santa Cruz or Campo Grande (where Fabio was born). Drop off at any station and take a stroll and then get the train back. You may well also get a sense of how the poorer people are now more likely to become overweight, without having to read a learned paper featuring the results of a randomised controlled trial. As the famous Brazilian sambista Zeca Pagodinho has written:
The Moving Mall
(Shopping on the Train)
There's everything in the train that leaves Central Station:
(Tem sempre tudo no trem que sai lá da central)
Packs of cards, coconut ice-cream, clothes lines,
(Baralho, sorvete de côco, corda pro seu varal)
Army knives, plug adaptors, cotton buds, peanuts,
(Tem canivete, benjamim, tem cotonete, amendoim)
And always chocolate candies and cookies.
(Sonho de valsa... e biscoito integral.)
Note the last line! The train is not a tourist attraction, so behave like a local. Robberies are very rare nowadays. But be sensible and polite, don't stare, don't take pictures, as mentioned leave expensive things in your hotel safe, and carry just enough money for the day.
We encourage you one day to ride a barca, the ferry that crosses Guanabara Bay to Niterói, the second largest city in the metropolitan region of Rio de Janeiro. Many people live in Niterói and work in Rio, and use the barca everyday to get to work and back home. The ticket costs US$ 2.50, and the ride takes around 15 minutes. If you don't leave the boat you can return to Rio without paying the ticket to return. The boats leave from the Praça XV (Square XV), the one we featured last month. So the boat trip can be combined with a visit to the city centre area.
Visiting a favela
We strongly encourage you to visit one of Rio's largest and most impressive favelas. If you leave Rio without this experience you won't get a full sense of the city. There is no exact English word for favelas. They are not slums, in the sense of areas of decayed old buildings. They have similarities to shanty-towns. Perhaps the best translation is 'informal town' or even city.
There have been favelas within the city of Rio for around a century, or longer. They began to be built as shacks on the steep hills in and around Rio, by freed slaves some of whom had been miners, destitute coffee plantation workers, and then more recently by waves of immigrants from the impoverished North-Eastern region of the country. They are here in Rio to stay. Previous attempts to demolish them, which failed, have created fierce communal loyalties. Some favelas have their own informal governments run along lines somewhat similar to the mafia system well-known from the 'Godfather' movies. The policy of the city authorities now, is to give favelas basic amenities, like roads, sewage systems, gas, electricity and telephones.
Many people who could afford to rent formal housing prefer to live in favelas, because of family and community, or closeness to work in the inner city, or in some cases, such as the small Vidigal favela (see below) which is beyond the fashionable Ipanema and São Conrado districts above the main coast road to Barra da Tijuca, because of the breeze, the greenery, and the stunning views of the ocean. A senior Brazilian public health executive lives in Vidigal, and – so we are told – uses the gymn and other facilities of the five-star Sheraton hotel which is directly below the favela.

Vidigal by day (left) and seen from the ocean by night (right). Fiercely protected, it is on what would otherwise now be top price land in the city
Favelas now attract many foreign tourists, and there is a growing industry of favela tourism. Your hotel will easily find tour packages to offer you. This option involves going up into the hills where the favelas are, sitting in a Jeep like those used in safaris in Africa to see the lions and hippopotamuses.
If you are after a more real experience, take the local ways to enter and exit the favelas. To get to Rocinha, the biggest favela in Rio (see above), which is directly above São Conrado, you can take a bus from the centre of the city. You can pick buses up at stations in Leme, Copacabana, Leblon, or Lagoa. Take the 592 (marked as heading to SÃO CONRADO), or 593 (to GAVEA), or 546 (to ROCINHA). All of them will take you inside Rocinha. Nobody knows how many people live there. The official census count is around 75,000, but many favela dwellers pay little attention to the official world, and a realistic estimate is twice or maybe three times that number. Yes, Rocinha is more like an informal city than a shanty-town. You will have read about the drug lords, raids by the military police, shootings and murders. All true, but there is little random violence, and the people who call the shots in favelas know that tourism is good for trade. Provided you dress and behave modestly, nobody is going to bother you. Go with some nice ball-point pens to give to any small kids who ask you for money.
Another option we suggest is the Complexo do Alemão, a system of 13 favelas, whose residents recently received a new cable car that connects the main favelas of the complex and the 'asphalt' (as residents refer to non-favela areas). First you need to get to the Bonsucesso train station using the urban train. When buying the ticket, ask for a combined ticket, train+cable car (US$ 1.5). As you exit the train at the Bonsucesso station look for the signs to the Bonsucesso cable car station. There are five stops. If you want to drop and board at each station you might prefer taking the tourist ticket for US$ 6. Although there are these special tickets and the cable cars are a local means of transportation used by residents daily. Have a seat, relax and enjoy the experience of travelling over the roofs of another enormous Rio favela.