2011 November blog
Reggie Annan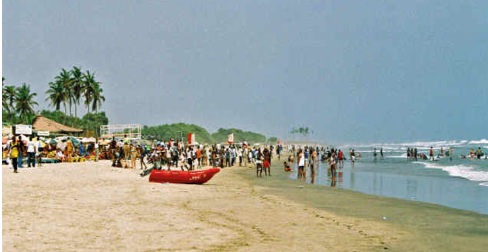 This month I report on the second Federation of African Nutrition Societies (FANUS) congress held in Abuja, Nigeria between 11-15 September. Its theme was 'Accelerating nutrition action for Africa's development'. Before I start though, as usual I would like to warm your hearts, with this beach scene from Accra, Ghana. The people of Ghana and I feel the whole of West Africa are happy people, who know how to relax and enjoy life. Many beach scenes like the one above can be seen on most weekends and public holidays. Absolutely stress free.
The Nairobi Declarations
From science to policy and action
Two important meetings were held before the actual FANUS congress. The first was a meeting by the African Graduate Nutrition Students Network (AGSNet). The second was a workshop on developing competency-based curricula for training nutritionists in Africa, organised by the International Malnutrition Task Force (IMTF).
In October 2010 at the end of the Fourth African Nutrition and Epidemiology Conference in Nairobi, the Nairobi Declarations were agreed and issued. But declarations themselves are means to an end and need translation into action. So AGSNet is championing implementation of the Nairobi Declarations. It has called a meeting of the national nutrition societies that make up FANUS, the African Nutrition Society, and the International Malnutrition Task Force, to confirm the commitments made in Nairobi and to fine how to honour these commitments.
Building competence and capacity
The AGSNet of which I am a member, is an association of nutritionists and related professionals studying at postgraduate level in different parts of the world, or working in nutrition in Africa and beyond. As the network for the generation of young nutritionists in Africa it is central to building capacity for the continent.
Joseph Ashong, the network coordinator, called on all relevant actors to implement the Nairobi Declarations. He said these have 'the potential greatly to contribute to the fight against malnutrition on the African continent. We hope that by the time this FANUS congress ends, there will be a smart plan of actions'.
Speaking on behalf of the African Nutrition Society, Paul Amuna said that ANS is the natural home for AGSNet members. Young leaders need to join the ANS once they finished studying so that their capacity development would continue. 'Problems of nutrition in Africa cannot be solved externally' he said. 'If this could be achieved, we would have changed after decades of externally-led programmes. We need to solve our problems internally. This can be achieved with our young leaders. This is what makes AGSNet essential'. He urged network members who have the privilege of studying in more resourced countries where systems work better, to bring back what they have learned and adapt it in Africa.
Talking on how to achieve the Nairobi Declarations, he said that the ANS aims to ensure a well educated and trained work force. Adequate curricula for training nutritionists are needed in Africa. ANS is identifying African institutions that already run good training programmes in Africa and will work with them and the IMTF to ensure that uniform while contextualised curricula are followed. ANS is also working on a system of regulation to ensure that core competencies are achieved by nutritionists in Africa.
From the perspective of the IMTF, its co-convenor Alan Jackson, professor of nutrition at Southampton University in the UK, said that everybody needs to understand that the nature of growth and development of children is fundamental to the growth and development of countries. For a very long time, parents have understood that investing in the food and nutrition of their children is important for their growth and development. This was the case when he was growing up as a child after the Second World War, when food was rationed in the UK.
He said that issues to do with addressing malnutrition have made a lot of progress. When the 18th International Congress of Nutrition took place in Durban in 2005 – on African soil – there were no presentations on malnutrition. This provoked the formation of the IMTF, as an advocacy task force to support the building of capacity for scaling up prevention and treatment of malnutrition. In 2009, in the 19th ICN meeting in Bangkok, there were whole sessions on malnutrition with rooms packed with people. This demonstrated revitalised and renewed interest and commitment. In 2010 at the International Paediatric Congress in Johannesburg, for the first time paediatricians resolved to know how to prevent and treat malnutrition. These achievements are as a result of 'doing things'. IMTF is action oriented, and nutrition societies in Africa should be action oriented. This is how we can make a difference, he said.
Feeling good is not enough
He went on to say that the Nairobi and Johannesburg declarations and resolutions are both committed to the same aim, which is that children should not die from malnutrition. 'We all felt good when these were passed, but feeling good is not enough'.
The IMTF is developing and evaluating an eLearning course on caring for infants and children with severe malnutrition. The task force aims to integrate this course into training for medical, nursing and nutrition students in less resourced countries. He encouraged nutritionists who are developing and training others, to access and use this course. It is available free at www.som.soton.ac.uk/learn/test/nutrition.
'Nutritionists should be talking to paediatricians and other health professionals on how to do things better to prevent children from dying from malnutrition' he said. 'We should work inter-sectorally at the international level with national organisations to do things better. If you are a paediatrician, and children die in front of you from malnutrition, and you do not know what to do and are not doing anything to stop this, then you are irresponsible. If you are a nutritionist who does not do anything about children dying from malnutrition, this is also irresponsible. This is why nutritionists need to talk to paediatricians'.
Competency standards
The second pre-congress workshop was organised by the International Malnutrition Task Force, in collaboration with the African Nutrition Society, the AGSNet, and alumni of the African Nutrition Leadership Programme. It was designed to be the first of a series of meetings to determine standardised knowledge, skills and competency-based curricula for undergraduate and postgraduate nutritionists in Africa.
The workshop was facilitated by Basma Ellahi from the University of Chester and Paul Amuna from Greenwich University, in the UK, both of whom have experience in competency-based training. An agreed level of knowledge should be normal for nutritionists at different levels, whether in poorly resourced or well resourced countries. Determining the competencies would require more than one workshop, so coming to an agreement on what every nutritionist should know was seen as the expected outcome for this workshop.
Both in group discussions and plenary sessions, participants discussed their thoughts on current nutrition training in Africa. Many spoke from their own experiences as having been trained in Africa, or as trainers of nutritionists within the continent. The groups discussed and listed what they thought every nutritionist should know in Africa. These were then discussed and grouped into specific topics as the main output of the workshop. It ended with topic areas that everybody agreed that any nutritionist should have sound knowledge of in Africa:
The principles of nutrition science
Nutrients, diet and food
Evidence-based research including critical appraisal
Nutritional assessment
Nutritional advocacy
Inter-professional agenda (inter-sectoral approach to nutrition)
Nutrition education and health promotion
Nutrition programmes
The workshop ended with agreement to follow up its outcomes with another workshop during the forthcoming fifth African Nutrition and Epidemiology Conference, being held in Durban, South Africa. The ultimate goal is to develop internationally recognised and accredited competency-based curricula, contextualised in different African countries. These will harmonise nutrition training in Africa. This, it seems to me, is an excellent action-oriented initiative that will go towards making the Nairobi Declarations a reality in practice.
Overcoming malnutrition
SUN rises in Africa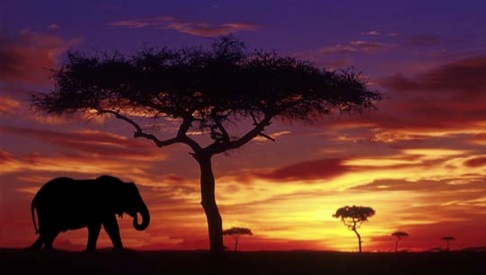 Onyebuchi Chukwu, Nigerian Minister of Health, in his opening address at the FANUS congress, said he was delighted to see that academics are moving from science to policy and action, not just doing research but also applying research findings. Scaling up nutrition has started in Nigeria. He was willing to lead and to join others so that the Millennium Development Goals are achieved even before 2015 in Nigeria.
He said that in itself, eradicating poverty is not enough to eradicate malnutrition. Were this so, the whole world would not be preoccupied with non-communicable diseases, another form of malnutrition. What is needed now, he said, are not so much complaints about what should be done, as statements saying what has been done. He gave food fortification as an example, now being developed in Nigeria. The Nigerian government is forming a national council for nutrition to oversee the implementation of public nutrition policies. 'It is time for action' he said.
Declaring the conference open, he said that African governments want to listen to scientists to know what to do, and want to have continuous dialogue with them not only before and during conferences but all the time.
Achieving the MDGs – barriers and visions
The congress was addressed by outgoing FANUS president Tola Atinmo, and incoming president of the International Union of Nutritional Sciences Anna Lartey, the first African woman to be elected IUNS president.
Tola Atinmo began with a moment of silence in memory and honour of Michael Latham, who died in April. Michael was pivotal in the formation and establishment of AGSNet. The network was started by a group of young graduate students studying under Michael at Cornell University. Michael also played a key role in the promotion of nutrition in Africa.
He lamented the fact that many African countries will not reach the Millennium Development Goals by the target year of 2015. There are many barriers. He hoped that the deliberations at the congress would help identify ways to overcome these barriers. The year of 2015 is also the year of the third FANUS congress. 'There would be nothing better to report then, than the news that the MDGs are being achieved or at least that adequate progress is being made', he said.
He said that there is need for the African national nutrition societies to be active in their respective countries and at the continental level. On paper, over 30 African countries have nutrition societies in Africa but many are dormant. This must change. He encouraged younger nutritionists to work closely with older and more experienced colleagues, many of whom have their doors open for those who want to learn from them, contrary to what younger people often think.
The MDGs are about Africa
Speaking on behalf of Ibrahim Elmadfa the current IUNS president until 2014, Anna Lartey said that IUNS is a global community of national nutrition science organisations tasked to promote research, disseminate information, and to collaborate internationally collaboration. 'In the last two years, there has been a strong wind of change internationally. Nutrition is now high on the global agenda. How long this will last we cannot tell, but we need to take advantage of the opportunity and strategise', she said.
'The MDGs are about Africa. If you take Africa out, there would probably not be any need for them. The bulk of nutrition problems are in Africa. Over half of all the 36 high burdened countries are in Africa. Fortunately, we know what works and we know what the costs are. There are also programmes in place such as the Scaling Up Nutrition (SUN) initiative We need to act now and we need to commit to scaling up nutrition actions to ensure the full benefits are realised'.
Indeed the sun is rising on nutrition in Africa, as illustrated by the photograph above. But unlike many parts of Africa where the sun is seen rising almost every day, the opportunities to address nutrition issues globally and especially in Africa may not always be there.
Prevention of cancer
The fruits of Africa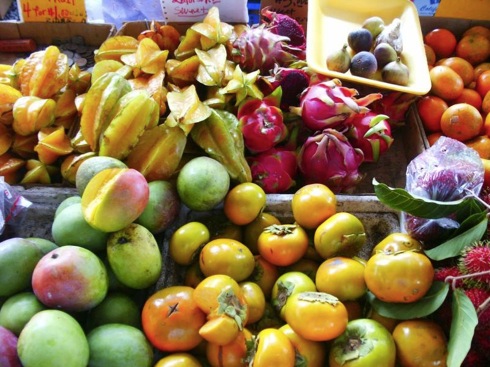 At the FANUS congress there were many important symposia, plenary and parallel oral presentations and poster sessions. One for me was very revealing. This was a symposium organised by the World Cancer Research Fund (WCRF), during which its most recent expert reports were presented (1,2).
Alan Jackson, who was a leading member of the panel of scientists responsible for the reports, said that while non-communicable diseases including cancers are increasingly common in lower-income countries, and in Africa now are just as much major causes of death as deficiency and infectious diseases, very little is known about cancers in general in Africa. Many African countries do not even own cancer registers.
Let me give you some facts about cancers in general. Cancer is a leading cause of death worldwide, and accounted for 7.6 million deaths (around 13 per cent of all deaths) in 2008 (3). Tobacco use is a major risk factor for cancer. Harmful alcohol use, poor diet, and physical inactivity are other main risk factors. Certain infections cause up to 20 per cent of cancer deaths in low- and middle-income countries and around 10 per cent of cancer deaths in high-income countries. Most cancer can be prevented.
Cancer arises from a change in one single cell. The change may be started by external agents and inherited genetic factors. Deaths from cancer worldwide are projected to continue to rise to over 11 million in 2030. The proposal that cancer is preventable and that food, nutrition, physical activity and body composition modify the risk of cancers, was first made before science emerged in its modern form in the 19th century (4). Throughout recorded history, wise choices of food and drink have been recommended to protect against cancer, as well as other diseases, and to improve well-being (4).
WCRF together with its sister organisation the American Institute for Cancer Research (AICR) commissioned and resourced the projects which resulted in the WCRF/AICR reports. The first was published in 1997(4) and the second in 2007(1). A further report on the public policy implications of the recommendations of the reports was published most recently, in 2009 (2).
The reports summarise, assess and judge the most comprehensive body of evidence yet collected and displayed on the subject of food, nutrition, physical activity and body composition, and the risk of cancer throughout the lifecourse. They move their evidence-derived judgements into goals and personal recommendations that are reliable basis for sound policies and effective actions at population, community, family, and individual level, in order to prevent cancer worldwide.
Therefore the recommendations are based on the best available evidence which has been identified, collected, analysed, displayed, summarised and judged systematically, transparently, and independently.
Limiting and moderating
What are the recommendations for preventing cancer? As general and broad recommendations for people – family and community members, and individuals – these are grouped as follows:
Body fatness
Be lean as possible within the normal range of body weight
Physical activity
Be physically active as part of everyday life
Foods and drinks that promote weight gain
Limit consumption of energy-dense foods. Avoid sugary drinks
Plant foods
Eat mostly foods of plant origin (as shown in the picture above, consumption of lots of tropical fruits is highly recommended)
Animal foods
Limit intake of red meat and avoid processed meat
Alcoholic drinks
Limit alcoholic drinks
Preservation, processing, preparation
Limit consumption of salt. Avoid mouldy cereals (grains) or pulses (legumes)
Dietary supplements
Aim to meet nutritional needs through diet alone
Breastfeeding
Mothers to breastfeed; children to be breastfed
Cancer survivors
Follow the recommendations for cancer prevention
These broad recommendations are quantified for populations and for people, in the two diet and cancer reports (1,4). In the policy and action report (3) they are the basis of recommendations for rational public policies and for effective actions.
Cancer registers needed
Speaking on what immediate action should be taken after FANUS, Alan Jackson said that if every African country opens a cancer registry following the meeting, this will start the process of addressing cancer in Africa. Such registers are needed, to collect information on cancer incidence and on the prevalence, types of cancer, their risk factors, and information on cancer sufferers.
References
World Cancer Research Fund/American Institute for Cancer Research. Food, Nutrition, Physical Activity, and the Prevention of Cancer: A Global Perspective. Washington DC: AICR, 2007. See also www.dietandcancerreport.org.
World Cancer Research Fund/American Institute for Cancer Research. Policy and Action for Cancer Prevention. Food, Nutrition. Physical Activity, and the Prevention of Cancer: A Global Perspective. Washington DC: AICR, 2009. See also www.dietandcancerreport.org
World Health Organisation. Cancer Fact sheet N°297 February 2011. Obtainable at http://www.who.int/mediacentre/factsheets/fs297/en/
World Cancer Research Fund/American Institute for Cancer Research. Food, Nutrition, and the Prevention of Cancer: A Global Perspective. Washington DC: AICR, 1997
Acknowledgement and request
You are invited please to respond, comment, disagree, as you wish. Please use the response facility below. You are free to make use of the material in this column, provided you acknowledge the Association, and me please, and cite the Association's website.
Please cite as: Annan R [Column]. From science to policy and action. Website of the World Public Health Nutrition Association, November 2011. Obtainable at www.wphna.org.
The opinions expressed in all contributions to the website of the World Public Health Nutrition Association (the Association) including its journal World Nutrition, are those of their authors. They should not be taken to be the view or policy of the Association, or of any of its affiliated or associated bodies, unless this is explicitly stated.
This column is reviewed by Geoffrey Cannon. He was director on behalf of WCRF/AICR for its 1997 diet and cancer report, and chief editor of its 2007 diet and cancer report and its 2009 policy report.
2011 November blog: Reggie Annan
Respond below please