March blog
Fabio Gomes
This month I bring you some delightful flavour and savour from the Amazon region. Then I tell tales of PepsiCo and its Foundation, teaching the teachers to show schoolchildren how to snack. I have some news, not all bad, about water. Finally, my Joke of the Month is in the form of some tips for ultra-processed product marketers who want to evade regulation.
Culinary tradition
Amazonian seasoning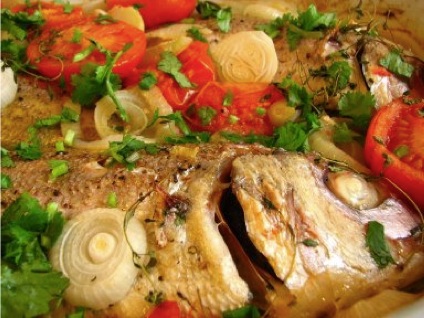 The first Portuguese, Spanish, French and Dutch explorers who ventured into the Amazon forest in the 16th century survived by living in the ways the original people lived, which included learning their ways of eating (1). The skills of fishing, hunting, and harvesting native fruits in the Amazonian territory were mastered by the native peoples. As a result, their ways of seasoning, cooking and eating influenced the Europeans. Fresh herbs perfumed baked fish such as the tambaqui in the picture above, a traditional way of cooking that has become part of Brazilian cuisine.
Tradition and culture are good reasons for Brazilians to protect traditional foods and ways of eating, and to block the advance of ultra-processed products and the snack way of eating. It is up to Brazilians to keep dishes like the one in the picture here – very delicious, also – not just in books, but on the table for shared meals, with all this implies for food systems.
And so this month, going beyond nutrients in the narrow sense, to nourishment of all our senses, I bring you our great poet the carioca Vinicius de Moraes, who here includes sensuality and humour in this poem to fish:
Fish Woman
(Mulher de Peixes)
Fish woman...
((Mulher de peixe...))
Still water
((Peixe é))
Is no good for her,
((Em águas paradas não dá pé) )
For she slides like an eel.
((Sempre que entra numa fria.))
She comes to the surface,
((Na superfície é sinhazinha))
Getting little nibbles.
((E festiva como a sardinha))
But when she gets serious
((Mas quando fisga um namorado))
Her man is battered and fried
((Ele está frito, escabechado.))

Reference
Silva P. Farinha, feijão e carne-seca. São Paulo: Senac São Paulo, 2005.
Snack manufacturers
Pepsi goes viral
Transnational corporations are teaching the world to snack. World food crisis? Not for Big Snack. According to Euromonitor, a provider of business intelligence, volume growth in the global soft drinks market jumped from a sluggish 0.8 per cent in 2008 and 2009, to a promising 1.9 per cent in 2010, with a marked recovery of cola and other carbonated drinks (1). There is a special interest in 'emerging markets' such as those of the 'mega-countries' of Brazil, India and China. It would be interesting to compare the growth in annual profits of Big Snack corporations, with the annual growth in global waistlines.
This item focuses on PepsiCo as the world's leading snack manufacturer. The company has gone viral, to accomplish its mission to teach the world to snack. Part of their message is that their snacks are healthy. In Latin America the PepsiCo Foundation has invented the programme 'Vive Saludable' (Live healthily), which according to them is the sign of the commitment of their companies and brands Gamesa-QuakerTM, GatoradeTM, PepsiTM, SabritasTM and Sonric'sTM 'to promote healthy lifestyles among their consumers and workers' (2).
In order to teach children to snack on their products, they have also developed the 'Vive Saludable Escuelas' (Live healthily, for schools), which they say will 'foster healthy living habits among children' (3). A Brazilian link is here. The words are in Portuguese, but it's easy to see the association of sugary drinks with pleasure, amusement and joy, and the suggestion that PepsiKids are good scholars (4). You can also check African children following the recommendations of teacher Pepsi here (5).
Here follow some of the main tips on the Vive-Saludable website, which is the Spanish language version (6). It offers you the option to choose your country, but the tips are the same for all. After you choose the country you can go through the tab Cuida tu alimentación (Take care of your diet) and check the Plan ideal por edad (Ideal plan by age).
For adolescents for instance, there is no mention of the risks of sugary or fatty or salty foods. Here are the Pepsitips 'for your adolescent son' (7). The bulleted points below are all quotes from the site:
Their eating habits are already set, take care of what your children eat, since that's when they will have their last growth spurt.
Eating disorders are very common in this phase, talk to your children about the secondary effects these disorders can cause and about the importance of eating correctly.
Get close to them to talk about alcohol and tobacco.
Make sure that their diet is abundant in iron, calcium and zinc.
Keep them active, in some extra-school sport, this will help their development and not to become overweight or obese.' (7)
They also teach how to choose foods (Enseña a elegir / Teach to choose) (8). Comments in parentheses are mine:
For many people, snacks are an adequate way to meet daily nutrition needs. (They get straight to their point!)
There are no good foods or bad foods, but only correct and incorrect diets. A healthy life is the result of a good diet and adequate physical activity… A balanced diet is part of a correct diet. All foods fit into a diet. (Which sounds like a roundabout way of saying 'eat anything')
The terms 'bad foods' or 'good foods' must be avoided, since it could be interpreted as meaning that some foods contain more nutritive substances than others, which is not always the case (They also give some tips about how to watch out for messages meant to promote public health).
Children should try all kinds of food, since the flavour also influences their decisions (I hope they do not suggest this tip to the tobacco industry).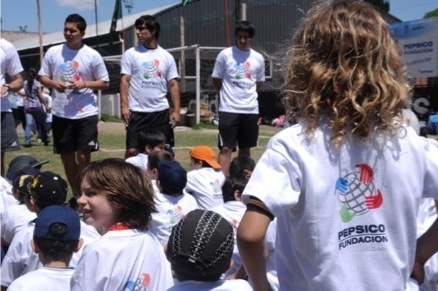 The Escuelas (Schools) variant of the Vive Saludable programme gets closer to children and their teachers, as you can see in the picture above. The programme includes the installation of software in the schools' computers, designed to teach 'the principles of a healthy life' for children from 6 to 17 years of age. The aim of the software is 'to offer a tool to support teachers in transmitting to their students the importance of a correct diet and regular physical activity' (3)
PepsiCo, together with the PepsiCo Foundation, is getting results with teachers. Thus Marisa Acevedo, a teacher at the School San José Obrero, in Buenos Aires, Argentina, says: 'As teachers, the activities we develop jointly with the PepsiCo Foundation help us to communicate a healthier and more natural way of life... All this is also seeing reflected in the family. We recently did an activity involving parents too: we cooked truffles with Quaker Oats, condensed milk and Toddy' (9).
So there we have it. PepsiCo, the leading snack company in the world, is teaching Latin American children how to eat healthily. What's the analogy? Arms manufacturers giving schools software packages showing teachers how to tell children all about peace?
Bonin is blown away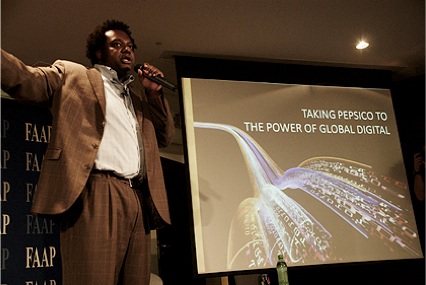 Meanwhile Bonin Bough has been preaching the corporate word. He has just been on a four-day world tour, which included addressing the Social Media Week event in São Paulo. Here he is, above. Here's how he describes himself (10). 'I am a digital junkie and a computer programmer at heart. Today, as PepsiCo's Global Director of Digital and Social Media, I work with some of the best digital hands and biggest consumer brands in the world'
As published in Forbes magazine last month, he says: 'While in Brazil for Social Media Week, I picked up a phrase that to me perfectly captures the spirit of constant adoption and innovation required to keep pace with digital technology: "Change the tires while we're still driving". New tools and platforms come to the fore so quickly today that there isn't time for a wait-and-see approach... '
'Brazil provides a great model for this approach. The pace of adoption and integration is truly breathtaking. The country already has the second largest Twitter population, behind only the US; it has among the fastest growing Facebook populations; it is the fourth largest FourSquare market; and the country has even more Groupon-style social discount businesses popping up than does the United States... '
'I was blown away by the young entrepreneurs I met, like the people at boo-box, who in just a few years have grown their company into a VC favorite and cultivated a network of 13,000 registered publishers. These young innovators, with their inventive, fast-moving approach, remind me of the creative, attacking flair of Brazilian footballers. They understand that a digital project is never "finished"...
'You can identify one of the biggest evolutionary challenges for brands if you think about the format of Social Media Week itself. This year, SMW took place simultaneously in New York, San Francisco, Rome, Paris, Toronto, São Paulo, London, Hong Kong and Istanbul. That an event can occur across four continents is another reminder that digital technology isn't bound by particular geographies. As brands move further into this space, the reality is that they exist all across the world now, too. The next big challenge for brands... is to forge connections and engage in conversations that are global in scope, but that have relevance and meaning on the local level. Engaging in this way is critical to thriving in the era of the borderless brand'.
And what projects is this enthusiastic and obviously very bright man engaged in? 'We work fast and smart to engage consumers in exciting and relevant ways. These are just a few of my latest and favorite projects: SXSW, PepsiCo10, Gatorade Mission Control, and Pepsi Loot'.
According to another business journal, in Social Media Week PepsiCo launched Women's Inspiration Network, or WIN, an online interactive network involving 'experts, influencers and real women around the world' (11). Bonin Bough explained that PepsiCo's digital innovation and success has been made largely in collaborations 'whether through joint efforts with mobile application start-ups such as Foursquare and Stickybits, or with consumers themselves, as in the Pepsi Refresh initiative'.
He sees Social Media Week 'as representative of the next wave of what organizations are truly going to be focused on, which is the globalization of efforts, events and activities... Brands don't just happen in specific geographies, so the question is 'How do we participate on a global scale in conversations but still make it relevant and engaging for consumers on a local level?... It is not just about sponsoring and activating, it is about people interacting, participating in conversations and sharing what we are learning'.
And what's this brilliance all in aid of? Teaching the world to snack.
References
Bough B. Changing the tires while we're still driving. Forbes, 14 February 2011
Butcher D. PepsiCo exec: majority of social interactions will happen via mobile. Mobile Marketer, 14 February 2010.
Ultra-processed products
Fruit disguise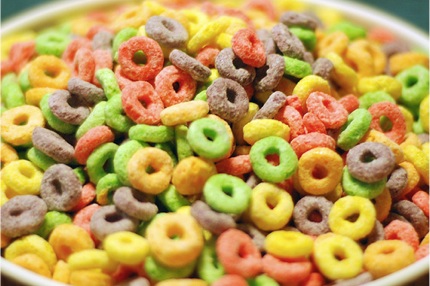 Giving the impression that ultra-processed products are healthy is nothing new, although techniques have become increasingly sophisticated. Take Kellogg'sTM Froot-Loops™. Here they are, above. The package nowhere states that the product includes any fruit. But why the word 'froot'? Could this possibly because this invented word looks like, and when spoken sounds like, 'fruit'? Also, the colourful loops gives an impression that children are being given a varied diet; they almost look like a fruit salad.
But this is just one of very many examples. Everybody knows that fresh fruits are healthy. Freshfel Europe, the trade association representing the interests of the fresh fruits and vegetables sector in Europe, has published a study called 'Where is the fruit?'. This shows that the image and name of fresh fruit is often misused by processed products companies. The study can be downloaded by clicking here, It shows that almost one fifth of the products that implied or suggested that they contained fruit, actually contained no fruit whatsoever. Half of the 207 products analysed had no fruit or else contained less than 10 per cent of fruit. In Europe there is a regulation stating that images of fresh fruits can be shown on labels only if the amount of fruit in the products is above a specified amount. Only 13.5 per cent of the products contained sufficient fruit to allow this (1). My guess is that these figures, found in a group of nine European countries, wouldn't be so different in other regions and countries. Watch out!
Reference
Human right to water
Tap water fights back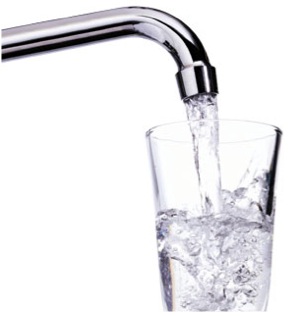 As you will know, Nestlé's policy and practise is to turn water from a human right into a profit-driven commodity. For those who missed my past columns and want to have a clear idea about Nestlé's position please check my June column and the video with Nestlé's then CEO, Peter Brabeck-Letmathe, speaking for the documentary We Feed The World (1,2).
This month I bring you some bad news and some good news. The NGO Corporate Accountability International (3) launched last February its report Tapping Congress to Get Off the Bottle, which can be downloaded by clicking here. This shows that the US Congress spends over $US 1 million a year on bottled water, of which 70 per cent goes to Nestlé. A total of at least $US 860,000 was spent on bottled water between April 2009 and March 2010, which means $US 2,000 per member. With all that money they would be able to buy over 1500 drinking fountains. Corporate Accountability is now seeking support from Congress to take the 'Think Outside the Bottle' pledge, in order 'to prioritize public water systems over cushy contracts for water bottlers'(4).
Here in the Southern American continent, there is also bad and good news. Unlike many countries and cities in Europe and the US, where tap water is freely and safely available in restaurants and elsewhere, in Brazil where we have clean and safe water in abundance, restaurants still serve only bottled water, with big mark-ups on the retail price. But now, restaurants in Rio de Janeiro and São Paulo are beginning to install water filters, and are serving clients with water for free or at low cost (5).
References
Gomes F. What my parents have taught me, and other items. [Column] Website of the World Public Health Nutrition Association, June 2010. Obtainable at www.wphna.org.
Joke of the month
Oh! How the food giants suffer!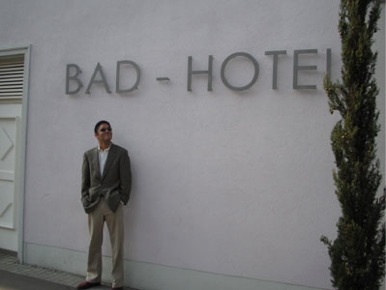 A common theme of my columns and other contributions to the Association website and for WN, is that transnational and big national food and drink manufacturers say that they are threatened by plans to regulate their activities. They plead potential poverty. In effect they are saying, trust us, we are good people, we simply supply what people want. We understand what you are saying about children and we can sort this out ourselves. But no laws please, these will be bad for us, bad for you, bad all round, we might even go bankrupt.
Take my country, Brazil. Worried about pressure from civil society and the Brazilian federal government to uphold statutory regulations, the food and advertisement industries are making their moves to screw up this process. Late last year the organisations that make money from junk food and drink advertisements created a 'non-government' trade front organisation with an impressive name, the Instituto Palavra Aberta (Open Word Institute). Its purpose is to insist that any laws governing the practices of industry would restrict choice, be undemocratic, and be terrible for business and employment. Don't do this or else it will be woe on you and woe on us, is the message.
Here comes the Joke. Where did the industry, so worried about their future, so concerned about going broke, come together to discuss their public spirited worries? They expressed their concerns in the Grand Hyatt São Paulo, one of the fanciest five star hotels in Brazil and internationally (1).
But once revealed, surely this is awfully bad for their public spirited image? How about new rules, appropriate for their new concerns as acting in the public interest? More modest hotels, such as the one I found pictured above, would be a start. Stated commitment to economy class flights, and also to limitation of face to face meetings in favour of skype calls, will also make their cause more plausible. And better still, for those who must meet face to face, dossing down in the apartments of colleagues. Perhaps this is not so much a joke, more a public relations suggestion...
Acknowledgement and request
You are invited please to respond, comment, disagree, as you wish. Please use the response facility below. You are free to make use of the material in this column, provided you acknowledge the Association, and me please, and cite the Association's website.
Please cite as:Gomes F. Amazonian seasoning, and other items. [Column] Website of the World Public Health Nutrition Association, March 2011. Obtainable at www.wphna.org
The opinions expressed in all contributions to the website of the World Public Health Nutrition Association (the Association) including its journal World Nutrition, are those of their authors. They should not be taken to be the view or policy of the Association, or of any of its affiliated or associated bodies, unless this is explicitly stated.
This column is reviewed by Geoffrey Cannon. Thanks to Felipe Gomes for the book that inspired the Amazonian seasoning item; to Saïda Barnat and Freshfel for sharing the news on the Where is the Fruit? report; to Patti Rundall for sending me the news on tap water; and to Mariana Ferraz for the basis of my Joke of the Month.
2011 March blog: Fabio Gomes
Respond below please