Our spirals: what they mean
Four more Brazilian spirals. A stair rail, Cabo Frio; van selling açaí, Recife;
a floor of the Catete Palace, Rio; and the cycle of progress, Santa Teresa, Rio
The icon for our Rio2012 congress, taking place between 27-30 April next year, is the spiral, which for the congress will be adapted in hundreds of ways. The 'Brazilian' spirals shown above and on our home page this month are inspired by and derive from the 'original' spiral, designed in 2005 by the Beijing calligrapher Ying Huang Bi, as commissioned by the designer Chris Jones of design4science for the New Nutrition Science project. Here is the story. It begins almost a decade ago.
The New Nutrition Science
The New Nutrition Science began as a project in 2003, supported by successive presidents of the International Union of Nutritional Sciences Mark Wahlqvist (2001-2005) and Ricardo Uauy (2005-2009). Its mission is to shape nutrition as a discipline and profession into forms that are fit to face the circumstances of this century. Its basic idea, as expressed in its founding document The Giessen Declaration, within a special issue of Public Health Nutrition, is that nutrition is a biological and also a social, economic, and environmental science, with all this implies(1). One of the 23 signatories of the Declaration is Ibrahim Elmadfa, current IUNS president (2009-2013). Other signatories, as well as Mark Wahlqvist, include Association members Michael Krawinkel, Barrie Margetts, Joan Sabaté, Prakash Shetty and Esté Vorster, and also the New Nutrition Science co-convenors Geoffrey Cannon and Claus Leitzmann.
Further, as agreed at a workshop meeting held at the University of Giessen in April 2005, and also stated in the Declaration: 'All sciences and all organised human activities are and should be guided by general principles. These should enable information and evidence to be translated into relevant, useful, sustainable and beneficial policies and programmes. The overall principles that should guide nutrition science are ethical in nature. All principles should also be guided by the philosophies of co-responsibility and sustainability, by the life-course and human rights approaches, and by understanding of evolution, history and ecology'. Ricardo Uauy, who was not able to attend the workshop, wrote in Public Health Nutrition: 'There is a pressing need to include the social, economic and human rights aspects within an ethical framework, in order to define future policies that will secure the right to safe and nutritious food for all' (2). These principles and precepts have also been adopted by the committees responsible for planning Rio2012.
The search for the symbol
Like most organisations, most congresses, including those featuring nutrition, have a guiding theme expressed in words. A congress whose programme is mainly descriptive might have a theme in words like: 'Aspects of modern nutrition in principle and practice: new progress and perspectives'. The programme of Rio2012 has been constructed in the belief that the purpose of valid forms of evidence is to make the world a better place. This commitment guided us to our theme of 'Knowledge, policy, action', always in the public interest.
Most congresses and organisations also present themselves in terms of a symbol, also known as a logo or icon. After much thought, the Rio2012 organisers came to the same conclusion as the convenors of the New Nutrition Science project. Most conventional science is conceptually linear, 'straight arrow'. It depends on facts: assemblies of bits of information in the form of data shaped according to pre-set rules. It is conducted on the assumption that as a rule, the new replaces the old, and that the results of the latest studies, typically ever-increasingly complicated and expensive, make previous results redundant. Further, human constructs are based on straight lines, as anybody sitting in a room or looking at a building can see. Specially designed curved shapes are, like plants, usually there just for decoration.
Rio2012 respects facts, but what will come first are ideas. An observation that guides the planning of our congress is that in nature, nothing is in the form of a straight line. Further, human history shows that progress is not linear but cyclical. Despite developments in technology, we constantly come back to where we were before. If we have made progress, we will have expanded our knowledge and wisdom. Growth in nature and often in art is shown as the spiral form.
In nature, the spiral shape obeys laws of proportion, which now guide systems thinking, essential in all trans-disciplinary work. Systems analysis is essential in addressing 'big picture' issues, such as: 'How can the activities of transnational food companies be reconciled with nutritional health, and in turn support the sustenance of the living and physical worlds throughout this century?' Progress in systems thinking is made by a spiral process of planning, action, evaluation, then enhanced planning, action, evaluation… and so on (3,4).
The Brazilian team at work
So the challenge the Rio2012 Brazilian congress operations team gave themselves in March and April this year, was to turn these concepts and the original spiral icon, into Brazilian realities. The aim was to assemble a set of spirals each and all resonant of Brazilian ethnic and cultural diversity.
Before the first meeting, the 12 participants circulated images from the internet and that they had originated themselves. The five-hour meeting agreed four themes: food, people, nature and culture. Some of the suggestions were: Rice and beans in a spiral shape, the peel of fruits, hands closed in the shape of fists, the swirl of hair in the back of the head of a baby, a spoon mixing food in a pan. Participants then agreed to visit food and handicraft fairs to acquire images and develop more ideas, to experiment at home, and to include key Brazilian foods.
The second all-day meeting, three weeks later, with 15 participants, created the spirals and photographed them. Everybody loved the experience of creating images together. Spontaneous email messages included 'beautiful process of partnership and creativity', 'our delightful collective creative process', 'important and pleasant process', 'a time characterised by engagement, commitment, concentration, lightness, creativity, organization, efficiency, happiness and companionship', 'a collective, conscious and playful process at the same time', 'I loved everything, especially to see the creative capacity of all of you, the harmony in a collective (so rare in real life)'.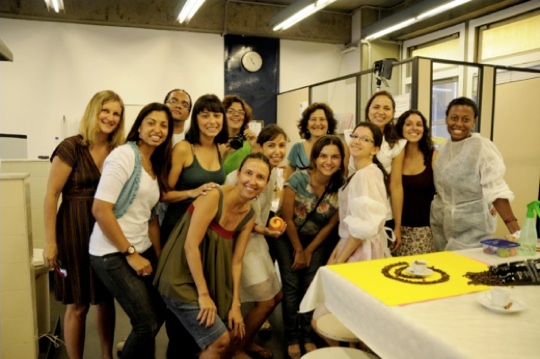 Most of the 'Happy spiral' team are in this picture. They look forward to
participants at our Rio 2012 congress enjoying Brazilian culture and food
Two weeks later, in April, the third meeting was held, to agree the design of the congress poster. After the meeting our professional participant Carlota Rios, who is the Abrasco designer, created a first version, which was then modified and agreed. Apart from Carlota, all the participants gave their time for free. Because of the richness and variety of the images, we now also plan to produce and sell 'spiral'souvenirs of the congress, such as postcards, mugs, bookmarks, apron. We also plan to exhibit in the congress,the photographs and their making.
References
Leitzmann C, Cannon G (eds). The New Nutrition Science. Special issue. Public Health Nutrition 2005, 6(A): 667-804.
Uauy R. Defining and addressing the nutritional needs of populations. Public Health Nutrition 2005, 6(A), 773-780.
Cannon G, Leitzmann C. Tools for transformation: the systems approach. In: The new nutrition science project. Public Health Nutrition 2005, 6(A): 673-694.
Beck D, Cooke C. Spiral Dynamics. Oxford: Blackwell, 1996.
Acknowledgements
The Brazilian 'happy spiral' team, many in the picture above, were: Amanda Silva, Ana Beatriz Pinheiro, Ana Maria Azevedo, Camila Maranha, Carlota Rios, Claudia Bocca, Daniel Oliveira, Elda Tavares, Emília Caniné, Fabio Gomes, Gabriela Bioni, Inês Rugani, Isabela Verde, Janine Coutinho, Jorginete Damião, Juliana Oliveira, Kelly Alves, Letícia Tavares, Luciana Castro, Luiza Toschi, Maria Thereza Cury, Michelle Delboni, Rute Costa, Sabrina Ionata, Sheila Rotenberg, Sílvia Farias, Suzete Marcolan, Thiago Pereira.