2011 July blog
Reggie Annan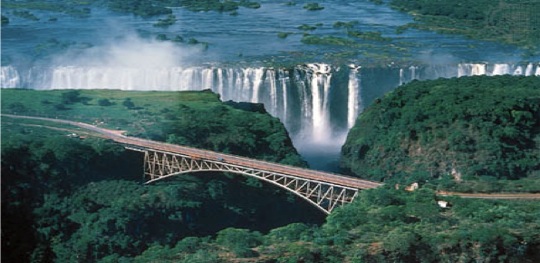 This month's column is on a tough topic with many tragic aspects. This is the impact of HIV-AIDS in Sub-Saharan Africa, with a focus on mother-to-child transmission of the infective agent. There is good news as well. And once again to remind you and myself of the glories of Africa, here above are the Victoria Falls in Zambia.
Nutrition and infection
Good nutrition protects against AIDS
Last month, 5 June, was the 30th anniversary of the first diagnosis of AIDS, made in Los Angeles, California. However, the disease had probably active for some while before it was officially diagnosed. Symptoms and signs of AIDS had been called various names already, including 'slim disease' in Africa.
Now there are over 34 million people today infected with HIV. In the last two years this number has not changed, but from 2001 to 2009, the global rate decreased by 25 per cent. HIV still has no cure and so prevention is crucial. In rich countries, new drugs and therapies make HIV-AIDS almost as treatable as chronic diseases. Not so in sub-Saharan African, where millions of people continue to be disabled and to die from HIV-AIDS.
Good news, very relevant to our profession, is that good nutrition protects against infection. The interactions between nutritional status and the immune system and thus susceptibility to infectious agents, is one of the most important contributions to our science of Nevin Scrimshaw. He effectively has proved that infectious diseases influence nutritional status, and that conversely, nutrient deficiency impairs resistance to infection (1).
Any infection, including with HIV, can lead to malnutrition. One reason is that infection causes loss of appetite, and thus poor food and nutrient intake (2). Infections can increase nutrient requirements and losses in the body and alter the metabolic processes. All these predispose to malnutrition. Malnutrition weakens the immune system, because the immune system depends on nutrients (2). Once weakened, ability to defend the body from organisms that cause infection is reduced and eventually lost. Reduction in infections, increased growth and reduced duration of recovery from infections all follow improved nutrition (3-5).
Malnutrition hastens HIV infection
There is a vicious cycle of malnutrition and HIV disease progression (6). HIV infection compromises nutritional status and increases susceptibility to secondary infections. Malnutrition exacerbates the effects of HIV by further weakening the immune system. The HIV virus attacks and destroys the cells that make the immune system competent. A weak immune system gives disease-causing organisms easy access. Unless the cycle is broken, infected people are dragged down in a vortex until eventual death
Infected people with better nutrition tend to respond better to treatment. A study has shown that HIV infected patients who began antiretroviral therapy without adequate nutrition were six times more likely to die than those with adequate nutrition (7). In contrast, adequate dietary intake and absorption have been shown to be essential for achieving the full benefits of antiretroviral treatment (8), by increasing appetite, reducing side-effects and promoting adherence (9).
References
Scrimshaw NS, Taylor CE, Gordon AJ. Interactions of Nutrition and Infection. WHO monograph series 57. Geneva: World Health Organisation, 1968.
Jackson AA. Anaemia in severe undernutrition (malnutrition). In: Kraemer K, Zimmerman MB. (eds). Nutritional Anaemia. Sight and Life Press, 2007.
Scrimshaw NS, Guzman MA. A comparison of supplementary feeding and medical care of preschool children in Guatemala, 1959-1964. In: Scrimshaw NS (ed). Community-Based Longitudinal Nutrition and Health Studies: Classical Examples from Guatemala, Haiti and Mexico. International Nutrition Foundation. Boston MA, 1995.
Martorell R. The INCAP longitudinal study (1969-1977) and its follow-up (1988-1989); an overview of results. In: Scrimshaw NS (ed). Community-Based Longitudinal Nutrition and Health Studies: Classical Examples from Guatemala, Haiti and Mexico. International Nutrition Foundation. Boston MA, 1995.
Chavez A, Martínez C, Soberanes B. The effect of malnutrition on human development: a 24-year study of well-nourished and malnourished children living in a poor Mexican village. In: Scrimshaw NS (ed). Community-Based Longitudinal Nutrition and Health Studies: Classical Examples from Guatemala, Haiti and Mexico. International Nutrition Foundation. Boston MA, 1995.
Semba RD, Tang AM. Micronutrients and the pathogenesis of human immunodeficiency virus infection. British Journal of Nutrition 1999. 81(3): 181-189.
Paton NI, Sangeetha S, Earnest A, Bellamy R. The impact of malnutrition on survival and the CD4 count response in HIV-infected patients starting antiretroviral therapy.HIV Med 2006, 7(5): 323-330.
World Health Organization. Preventing Chronic Diseases: a Vital Investment. Geneva: WHO, 2005.
Hardon AP, Akurut D, Comoro C, Ekezie C, et al. Hunger, waiting time and transport costs: time to confront challenges to ART adherence in Africa.AIDS Care 2007, 19(5): 658-665.
Good nutrition is crucial
Handling mother-to-child HIV transmission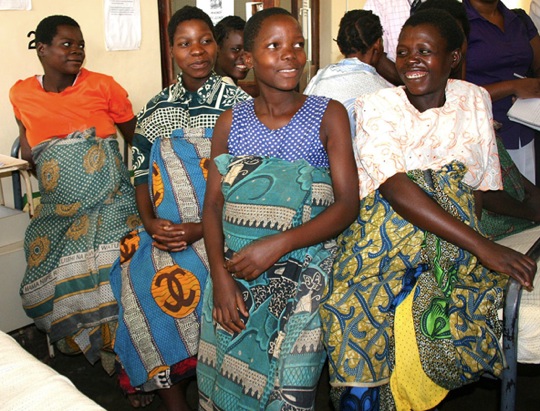 Reducing mother-to-child HIV transmission is the best way to tackle HIV in children and infants globally (1).It is equally important to ensure that children who are already infected with HIV are diagnosed early and treated, in order to prevent early disease progression. As well, good infant and young child feeding and nutrition are essential for complementing HIV treatment and ensuring that infected children and infants have immune systems able to resist the disease.
Mother-to-child transmission is a crucial problem. In Africa there are more women infected with HIV than men. As an example, there are twice as many young women in Uganda as young men aged 15-24 years estimated to be HIV infected (2). About 1,200 children are becoming newly infected with HIV every day, mainly due to transmission from their mothers. Of these more than 90 per cent are in low-income countries. Most of these children have symptoms of AIDS in the first year of life. If not treated, half of all infants with HIV infection die in their first two years (1).
Guidelines on mother-to-child transmission
There are agreed guidelines to prevent mother-to-child transmission. Thus, the South African guidelines recognise that such prevention, together with prevention of unintended pregnancies among women living with HIV, and providing appropriate treatment, care and support to women living with HIV and their children and families, is crucial (3).
Especially in Africa, all pregnant women need antenatal care and micronutrient supplementation, HIV counselling and testing, and counselling on safe infant feeding options. Infected women should be examined to know the stage of the disease, screened and treated for other sexually transmitted diseases, and given drugs to prevent transmission to their babies, and lifelong treatment to prevent disease progression. Those who test negative need counselling to remain uninfected. Those who refuse to be tested need counselling to reconsider their decision. There are also treatment guidelines for children with HIV. These select the most feasible and potent treatment options (1). Early and accurate diagnosis is essential.
Are these guidelines feasible in Africa?
Can such guidelines be followed in countries with few public health resources? In some Sub-Saharan countries the results are impressive. In Malawi close to 3 in 5 women and 2 in 5 infants were provided with treatment in 2009 from almost nothing five years previously, and the country could reach its national targets on preventing mother-to-child transmission by 2013. In Zambia close to 7 in10 pregnant women but only 4 in10 infants received treatment. There is some optimism that targets can be met. By contrast in Ghana, only 1 in four women and just over one in ten infants had access to treatment. In Tanzania, among pregnant women, more than two thirds received treatment and among infants about a half were reached. In Uganda, just over a half and close to a third of women and infants respectively received treatment.
Barriers to be overcome
In impoverished countries such as in Sub-Saharan Africa, there are many barriers to be confronted. Thus, the picture above is a group of African women attending antenatal services. Such women often have to travel long distances to the nearest clinic.
In Uganda, the challenges are mainly human resource capacity (8). In those areas with better human resource capacity, more women were counselled, tested and treated. Rural communities also offered more impediments. In Tanzania, about half of the women who attended antenatal services did not return to give birth at health facilities. Also, many service providers possessed inadequate skills, testing was not integrated into antenatal services, and necessary drugs were not available in health facilities surveyed (9). In Kenya, poor uptake of services was attributed to long distance to nearest clinics (10). In Somalia, stigma was another major barrier (11). Poor infrastructure and insecurity were also identified as major impediments. Ignorance, poor staffing in hospitals and clinics, and inadequate infrastructure were found in Zambia (12)
What is needed is more and better services, prevention of new infections, improvement of access to family planning services, and to skilled birth attendants, and perhaps above all, more public funds (2). Since many women give birth at home supported by midwives, these attendants need to be educated (4). In Nigeria and other countries, recommendations included decentralising and integrating prevention services with maternal and child health programmes and with malaria and tuberculosis services (13).
HIV infected infants and children can survive to adulthood. This though is hard to achieve in countries whose populations live below the equivalent of $US 2 a day and where women and children infected with HIV are likely to be existing in deep poverty. It is crucial that good nutrition is promoted most of all in these resource- poor settings.
References
World Health Organisation. Antiretroviral Therapy for HIV infection in infants and children: Towards universal access. Recommendations for a public health approach. Geneva: WHO, 2010.
UNICEF. Uganda PMTCT. Obtainable at http://www.unicef.org/aids/files/Uganda_PMTCTFactssheet_2010.pdf
Clinical Guidelines: PMTCT (Prevention of Mother-to-Child Transmission) 2010. National Department of Health, South Africa; South African National AIDS Council
UNICEF. Tanzania PMTCT. Obtainable at http://www.unicef.org/aids/files/Tanzania_PMTCTFactsheet_2010.pdf
UNICEF. Ghana PMTCT. Obtainable at http://www.unicef.org/aids/files/Ghana_PMTCTFactssheet_2010.pdf
UNICEF. Malawi PMTCT. Obtainable at http://www.unicef.org/aids/files/Malawi_PMTCTFactssheet_2010.pdf
UNICEF. Zambia PMTCT. Obtainable at http://www.unicef.org/aids/files/Zambia_PMTCTFactssheet_2010.pdf
Onyango S, Magoni M. Implementing PMTCT program in Uganda: Challenges and lessons learned. International Conference on AIDS, 2002. Abstract.
Ntabaye MK, Lusiola GH. Understanding barriers to PMTCT in Tanzania: findings of a baseline survey. International Conference on AIDS, 2004. Abstract.
Isaiah Esipisu. Rural Parents Prevent HIV Transmission to their children. Obtainable at http://www.ipsnews.net/news.asp?odmews=51926
Somalia: Baby steps towards a PMTCT programme. Obtainable at http://www.plusnews.org/Report.aspx?ReportID=91232
Kolsky R, O'Meara T, Lubasi T et al. Challenges of PMTCT program implementation in rural Zambia. International Conference on AIDS, 2004.. Abstract.
UNICEF: Nigeria PMTCT. Obtainable at http://www.unicef.org/aids/files/Nigeria_PMTCTFactssheet_2010.pdf
Acknowledgement and request
You are invited please to respond, comment, disagree, as you wish. Please use the response facility below. You are free to make use of the material in this column, provided you acknowledge the Association, and me please, and cite the Association's website.
Please cite as: Annan R [Column]. Good nutrition protects against AIDS, and other items. Website of the World Public Health Nutrition Association, July 2011. Obtainable at www.wphna.org
The opinions expressed in all contributions to the website of the World Public Health Nutrition Association (the Association) including its journal World Nutrition, are those of their authors. They should not be taken to be the view or policy of the Association, or of any of its affiliated or associated bodies, unless this is explicitly stated.
This column is reviewed by Geoffrey Cannon.
2011 July blog: Reggie Annan
Respond below please