January blog
Fabio Gomes
This is my tenth column, and greetings to you my readers. This month I look back to some themes of 2010, and look forward to 2011. First I want to express delight and pleasure, because my colleague, friend and mentor Carlos Monteiro has been identified by the weekly news magazine Época as a Hero, and one of the 100 most influential Brazilians. The citation, written by Marion Nestle, makes special mention of his work for our Association and for our journal World Nutrition. Very much more modestly, I am told that this column is one of the ten of our website contributions most often accessed. Thank you, readers. No, this isn't just my mum. Yes, public health nutrition, as we see it, is making a mark.
Writing
Sensing public health nutrition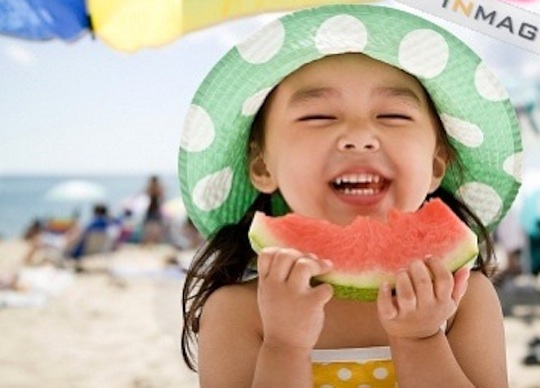 When I decided to start writing this column, the first decisions to be made were about its structure and format. What sort of items should it include? This is how I evolved some abiding approaches, including reporting on food as a sensual delight, and delight in food as expressed in poetry. My intention has always been to include more than news and commentary. I came to realise that if I wanted you my readers to enjoy my writing, I had to enjoy my writing also, and the act and fact of writing. Preparing a monthly column is not a trivial task. So I realised that I needed to feel pleased while writing, and to learn how to transmit my pleasure. I want my columns to feel warm and lively, to express my love for food and for public health nutrition, and to be considered and yet spontaneous.
I can now sense the occasion I drafted the first lines of my March column (1). Just by looking at, smelling and tasting the fresh pineapple juice I was writing about, I connected myself to the whole world of food and nutrition. I entered into a tunnel and travelled through food systems, and social and other determinants of bad and good nutrition. I have always seen nutrition from a broad perspective, but from then on I began to learn to put in words everything about food and nutrition that enters in through all our sensitive organs.
When I decided to add poetry to my column, I first thought it would be really hard to sustain writings that would relate to public health nutrition. But as I got started I realised how rich Brazilian literature is, and how connected with food, nutrition and the fundamental principles of public health.
When we exercise all our senses to make the world more vivid, we move towards transcendence. This also lights the ways in which we interact with food, people, and our living and physical world, in different levels of intimacy. Seeing food systems, labour conditions, families' joy or sadness, tradition, peace or war, through a spoon of rice, a slice of mango, or a sprig of broccoli, is not something we learn from the shelves of books on nutrition in libraries. 'For it is not knowing much, but realising and relishing' as St. Ignatius of Loyola has said (2).
References
Gomes F. Action to protect health, and other items. [Column] Website of the World Public Health Nutrition Association, March 2010. Obtainable at www.wphna.org
What happened in 2010
Some bad news
Now I will recall some bad news from 2010, and then some good news from 2010 and looking forward. I think people usually prefer to learn the bad news first. One of my mentors says that effective writing is 'from the outside in', meaning that we should be in sympathy with who we sense our readers are and what they are feeling.
One continuing item of bad news is the deep penetration by conflicted industry of our profession of nutrition, and of organisations whose task is to protect public health nutrition. I am referring to those sectors of the food, drink and allied and associated industries whose profits depend on ultra-processed products that are harmful to personal and population health. They are also known as Big Food, Big Drink, and – more appropriately, I think – Big Snack.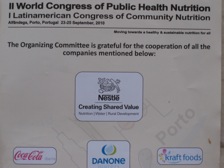 This is apparent to anybody who attends conferences, such as the 26th International Pediatric Congress held in Johannesburg in July last year (1), and, sad to say – see above a page of its programme – the Second World Congress of Public Health Nutrition held in Porto last September (2). This isn't just a matter of conflicted industry giving money. There is no such thing as a free snack. Nor do such industry sponsors content themselves with stands in the exhibition halls. They hire girls geared up in their uniform – see below some Coke™ lovelies from the Latin American (SLAN) conference in Santiago in late 2009 – who roam the corridors.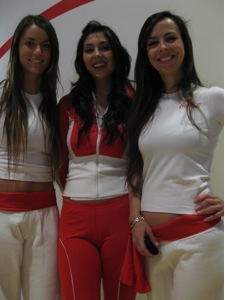 They buy lunchtime meetings. They get space on the scientific programmes for their executives or for sympathetic scientists to make presentations that support their policies, sometimes blatantly, or in code, or inadvertently. Why do members of our profession who are responsible for congresses let this happen? Do they want their meetings to be trade fairs? Is their main motive to gain surpluses to put into the coffers of their organisations? Are they in some sense themselves from industry? Do they see no problem, even when industry sponsors gain major stated and unstated presence within scientific sessions, as happened at Porto? Do they just do what the professional conference organisers they hire tell them to do?
And why have we all become used to this disgrace? A growing number of leaders in our and allied fields don't attend nutrition congresses, because they are disgusted by the practically unrestricted presence and influence of transnational manufacturers of ultra-processed products.
The Pan American Health Organization and business
I aim to include at least one substantial item in my columns. Something I am learning is to let the facts speak for themselves. I have my own feelings, but what's more important is how you feel. So I should step back, do some research, give you some information, include some links so you can find out more for yourself, and let you draw your own conclusions.
This next item is about the Pan American Health Organization's 'Partners Forum', whose declared purpose is to prevent chronic diseases. Its website, accessed at PAHO Partners Forum, states that the 'ultimate goal is to prevent 3 million deaths in the next 10 years' – presumably in the Americas. That's a whole lot of deaths. It proposes to do this by means of 'public-private partnerships' that include industry. Fair enough: it is essential that partnerships to improve public health include industry. But which industry?
I first came across the Partners Forum in April 2009 (3). I went to a meeting in Rio de Janeiro held in the penthouse suites of the swish Sheraton Hotel. It was part of the Latin American regional meeting of the World Economic Forum (WEF), whose business is money and power. The theme was 'Impacting health through multi-stakeholder action' – meaning, the Partners Forum.
Of the 49 people shown as invited, 3 were from the WEF, 4 from PAHO, 3 from the Brazilian Ministry of Health. There were 14 other 'stakeholders', and a total of 25 from industry and public relations companies. The industry people were mostly corporate affairs executives, from for example Kraft, Coca-Cola, PepsiCo, Cargill, and Pfizer, Monsanto, GlaxoSmithKline, Dow Chemical, and the Brazilian corn products and sugar industries, and from public relations companies that specialise in promoting Big Food and Big Drink. So I asked, in my letter: Why is PAHO heavily petting that very sector of industry whose products, eaten in typical amounts, are harmful to health, together with the agrochemical and pharmaceutical industries? I could think of a number of reasons for this, but could not think of any good reason. No reply has been received from PAHO or its partners.
The Partners Forum was formally launched at PAHO headquarters in Washington DC at the end of 2009. Afterwards it published on its site a 'Commitment to Action', addressed to all 'stakeholders'. Within the relatively short list of 'civil society' organisations are some names not usually identified as from civil society – the Grocery Manufacturers Association, the International Federation of Pharmaceutical Manufacturers, and – check this out and see for yourself where they are coming from – the International Business Leaders Forum, and the World Economic Forum.
'The potential for win-win'
Two of the Commitments are: 'Raising the profile of chronic disease issues on the public policy agenda and awareness of the potential for win-win, multisectoral partnerships to effect change'; and: 'Catalyzing new multisectoral partnerships that drive direct social, environmental, and policy action to promote healthy lifestyles and prevent chronic diseases'.
A year later, this December as I write, my colleague Geoffrey Cannon passed on to me a copy of an enthusiastic general email he and no doubt many others had received from Partners Forum co-ordinator, PAHO executive James Hospedales. This said, among other things, that organisations recently signed-up to the Commitments and that have formally joined the Forum included GlaxoSmithKline, PepsiCo, the International Food and Beverage Alliance, the Coca-Cola Company, and the Grocery Manufacturers Association, and also McGill University, and that Nestlé was interested.
The boxed text that follows, posted on the PAHO website, is extracts from the testimonies of some of the Forum's Partners.
Industry testaments to the Partners Forum
International Business Leaders Forum
In a world in which chronic diseases are the number-one cause of death and cause suffering to hundreds of millions of people, arresting the long term social and economic impact of chronic disease is one of the major challenges of the 21st Century. Only by government, business and civil society working together in partnership can we hope to tackle the complex socio-economic, environmental and behavioural root causes... The International Business Leaders Forum is delighted to be a founding partner of the Forum, and contribute its 20 years' experience of building capacity for, and facilitating, cross-sectoral action'
Adam Leach, CEO
World Economic Forum
Non-communicable diseases are a serious threat to global well-being and economic growth-- and success in dealing with this epidemic is everyone's responsibility. At the World Economic Forum we are committed to support the Partners Forum. This partnership is critical as it will leverage the core competencies of all players, catalyze concrete collaborative actions for prevention and identify new delivery opportunities to achieve health for all.
Dr Eva Jane-Llopis, Head, Chronic Disease and Wellness
Kraft Foods
In today's world, tackling complex social and health issues requires listening to all the voices of the community. Solutions may seem clear. Yet success depends on bringing together people with different points of views and interests to work towards a common goal. The Partners Forum provides such a platform, where diverse perspectives can be shared in an effort to help address critical health and wellness concerns.
Sarah Delea, Associate Director, Corporate Issues Management
PepsiCo
Partnerships are essential for hemispheric health. The multiple health challenges our countries face respect no boundaries, and addressing them demands the creative collaboration of governments, NGOs, multilateral institutions, and the private sector... PepsiCo is proud to join this initiative to address the problems of chronic disease and make tomorrow better and healthier for future generations throughout the Americas.
Donna J. Hrinak. Senior Director, Latin America Government Affairs
Coca-Cola
The Partners Forum is an ideal catalyst to promote active, healthy lifestyles and help prevent chronic disease throughout the Americas. Connecting the efforts of governments, the private sector and civil society provides the Partners Forum with a platform to make a positive and sustainable impact by generating the synergies, scale and speed necessary to confront today's public health challenges.
Jorge G. Casimiro, Director, International Government Relations
World Health Organization
In May 2008, at the World Health Assembly, 193 Ministers of Health endorsed the Action Plan for the Global Strategy for the Prevention and Control of Non-communicable Diseases. The Action Plan calls upon international partners, countries and the WHO to build results-oriented collaborative efforts...The Partners Forum for Action on Chronic Disease is an excellent example of how to move forward.
Janet Voûte, Office of the Assistant Director-General
What's in the box is all stirring stuff, while it stops short of saying anything concrete, and these are serious people. For example, Donna Hrinak was US ambassador to Brazil, Venezuela, Bolivia and the Dominican Republic, then US deputy assistant secretary of state for Mexico and the Caribbean, before she joined Pepsi. Before she joined WHO, Janet Voûte was director of the World Heart Federation; she has now moved on to Nestlé, where she is vice-president, global public affairs. Key actors in the world health governance play often hold and drive home a number of successive stakes.
The World Economic Forum and health
So that's what important people including from conflicted industry and associated organisations say, in a United Nations context. Now let's see what they say when they are at home.
The World Economic Forum recently published a report on Enhancing Corporate Performance by Tackling Chronic Disease (4). The basic idea, part of the Partners' Forum brief, is that healthy workforces make wealthy companies. The report was compiled in partnership with the Boston Consulting Group, which positions itself as 'the world's leading advisor on business strategy' – meaning, how to make business better and bigger. Another partner was Healthways, a thrusting disease management company based in Nashville, Tennessee. Eva Jané-Llopis of WEF was also on the team.
Of the 18 executives identified as contributors from the 'working towards wellness' WEF project board, two were from Coca-Cola, including Jorge Casimiro, one was from PepsiCo, two were from Unilever, one was from Nestlé, two from its breakfast cereal partner General Mills, and five from pharmaceutical companies.
The person from Pepsi was Derek Yach, its senior vice-president in charge of global health policy. Before joining the company he was a WHO assistant director-general responsible for the WHO Global Strategy on Diet, Physical Activity and Health, agreed by all UN member states, first published in 2004, and referred to by Janet Voûte in the boxed text above. This states: 'Factors that increase the risk of noncommunicable disease include elevated consumption of energy-dense, nutrient-poor foods that are high in fat, sugar and salt'. It would be unkind to say 'such as Pepsi products'. It would be fair to say 'like many if not most of the more profitable products manufactured by the transnational food and drink companies that are members of or interested in the Partners Forum'.
Much of the WEF report is concerned with ROIs (returns on investment). Some doubt is expressed in the report on whether companies will make more profit as a result of paying money to make their employees healthier. In these days of growing unemployment, depressed wages, and an inexhaustible supply of people in Asia and Africa desperate for any kind of work, this pondering is understandable. The most profitable approach in this unregulated world is to pay people rubbish money, work them to exhaustion, and then toss them in the trash, but of course no responsible company would adopt such outrageous approaches – these all vanished with the abolition of the slave trade and the adoption of child labour laws.
But the doubt in the report is driven by another rationale. It concludes, of chronic diseases: 'The science of correlating behaviours and chronic illness is a work in progress. Despite the advances that have been made, many metrics and definitions have yet to be standardized, and many countries lack adequate data on the costs and drivers of each chronic ailment. Questions remain about a range of complex interdependencies: for instance, how one chronic condition relates to another; how one risk factor relates to another; and how environmental factors influence individual behaviours'.
Ah. This is interesting and illuminating. What this text seems to be suggesting, is that PepsiCo, Coca-Cola, Nestlé and maybe other Big Food, Drink and Snack companies, when not sat round Partners' Forum tables, actually don't believe in the global strategy adopted by all member states, believe that more metrics are needed, that there is no need to be so concerned about agreed UN global strategies, that questions remain about a range of complex interdependencies, and that meanwhile it is business as usual only more so. If I misunderstand the meaning of this text, the response facility is at the foot of this column.
I leave this sad tale of the PAHO Partners Forum now with some thoughts, for you to consider. Do pharmaceutical companies and disease management companies want less or more chronic disease in the world? Do the manufacturers of sugary, fatty or salty ultra-processed products want their most profitable brands to be implicated in chronic diseases? Why were so few of the contributors to the WEF report from industries whose commercial interests are independent of public health?
Turning water into brands
More bad news from 2010 is that Big Drink continues to invest in water. Why, is because there is a lot of water in the world and the transnationals want to own it, brand it, and sell it, as I indicated in my June column (5). Remember what Nestlé chairman Peter Brabeck-Letmathe has said? 'The one opinion, which I think is extreme, is represented by the non-government organisations who bang on about declaring water a public right. That means that as a human being you should have a right to water. That's an extreme solution. And the other view says that water is a foodstuff like any other, and like any other foodstuff it should have a market value'.
He got this a bit wrong. Actually it's the UN General Assembly that has declared access to water to be a human right. Others have warned that wars to come will be fought over access to water, just as they have been and still are over access to oil. In my October column (2) I reflected on the two very long 'Hydration, Beverages and Health' sessions, sponsored by Danone Waters at the Porto congress. Speaker after speaker worried about sugary soft drinks. Everybody at the conference had access to free (for them) water bottled by Danone. There was no mention of tap water
Attacks on traditional diets
Further bad news in 2010 has been the aggressive behaviour of Big Food, Big Drink and Big Snack, to push up supply and consumption of their ultra-processed products in Brazil and other countries with a growing middle-class (2, 6). The plan includes pushing traditional food systems out of the economy. The transnationals, and also big national business, is aggressively opposing any kind of statutory regulation. In the South, the pledges they make on self-regulation for Europe and the US are set aside. Yes, it's the law of the jungle here. But now, as I indicate below, the consumers and citizens are revolting.
References
Gomes F. Spread the taste, and other items. [Column] Website of the World Public Health Nutrition Association, September 2010. Obtainable at www.wphna.org
Gomes F. Six hours of words from our sponsor, and other items. [Column] Website of the World Public Health Nutrition Association, October 2010. Obtainable at www.wphna.org
Gomes F. UN agencies are sleeping with the enemy. [Letter] World Nutrition, June 2010, 1, 2: 116-119.
World Economic Forum. Enhancing Corporate Performance by Tackling Chronic Disease (4). Geneva: WEF, 2010.
Gomes F. What my parents have taught me, and other items. [Column] Website of the World Public Health Nutrition Association, June 2010. Obtainable at www.wphna.org
Gomes F. The fables we buy, and other items. [Column] Website of the World Public Health Nutrition Association, November 2010. Obtainable at www.wphna.org
What happened in 2010
Some good news
For me the first good news for this year of 2011 is what comes from nature. Every month I intend to say something about specific Brazilian fruits – their variety, all their combinations, and their awakening of our senses. This is a blessing always to remember, simple and yet complex.
Progress in the public interest

More good news is that the statutory regulation of the advertising and marketing of ultra-processed products is not just a dream. Civil society organisations in Brazil are fighting the good fight, as reported in December (1). Above you can see the banner of the Frente pela Regulamentação da Publicidade de Alimentos ('Front for the Regulation of Food Marketing') in Brazil. It calls Brazilian society to join the Frente and participate in its official launch, being held in the School of Public Health of the University of São Paulo as I draft this item, on 17 December 2010.
Regarding human rights, I included good news in July (2). From 4 February 2010, the sixth article of the social rights chapter of the Brazilian Constitution includes nourishment ('alimentation') within the social rights guaranteed by law, as follows: Art. 6o .... A educação, a saúde, a alimentação, o trabalho, a moradia, o lazer, a segurança, a previdência social, a proteção à maternidade e à infância, a assistência aos desamparados (Article 6 .... Education, health, nourishment, work, housing, leisure, safety, social security, protection of motherhood and childhood, assistance to the destitute).
On the interaction of congress conveners with the private sector, in September I brought you the XI International Congress on Obesity held in the city of Stockholm in July, 2010 as good news (3). The organisers, the International Association for the Study of Obesity (IASO) with the International Obesity Task Force (IOTF) avoided conflicted industry sponsorship and provided an excellent and high standard congress for participants.
References
Gomes F. Mosaic of sensual delights, and other items. [Column] Website of the World Public Health Nutrition Association, December 2010. Obtainable at www.wphna.org
Gomes F. Songs to starfruit, and other items. [Column] Website of the World Public Health Nutrition Association, July 2010. Obtainable at www.wphna.org
Gomes F. Spread the taste, and other items. [Column] Website of the World Public Health Nutrition Association, September 2010. Obtainable at www.wphna.org
Prospective 2011
What's next?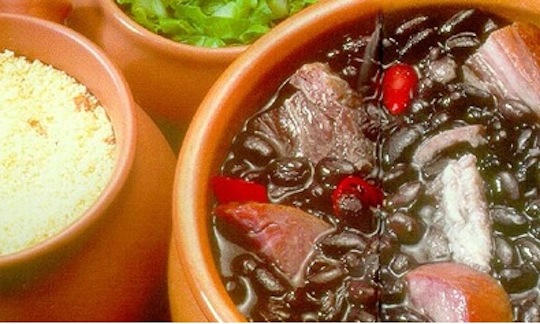 And so, for this new year of 2011? For a start, I promise you celebration of more national and regional Brazilian cuisine. An example is our legendary feijoada here above, the Brazilian equivalent of the Provençal cassoulet, and all the other great stews of the world originally based on economical use of local produce.
I will also bring you updates on Brazilian work to restrict and regulate the advertising and marketing of ultra-processed products especially to children, in our own country and internationally. Unfortunately I probably also will have news on troublesome interactions of Big Food, Drink, and Snack with organisations and professionals who should know better. I will also continue to note the similarities between the ways ultra-processed products are promoted, and the ways in which cigarettes and other tobacco products have been and still are promoted.
And now see our home page this month for coming good news, looking forward beyond this year – the Association's own Rio 2012 congress, pledged to be independent of all conflicted 'support'. Yes, there will be plenty of good-looking people at Rio 2012, but they won't be dressed up in Coca-Cola uniforms. Enjoy!
Acknowledgement and request
You are invited please to respond, comment, disagree, as you wish. Please use the response facility below. You are free to make use of the material in this column, provided you acknowledge the Association, and me please, and cite the Association's website.
Please cite as: Gomes F. Sensing public health nutrition, and other items. [Column] Website of the World Public Health Nutrition Association, January 2011. Obtainable at www.wphna.org
The opinions expressed in all contributions to the website of the World Public Health Nutrition Association (the Association) including its journal World Nutrition, are those of their authors. They should not be taken to be the view or policy of the Association, or of any of its affiliated or associated bodies, unless this is explicitly stated.
This column is reviewed by Geoffrey Cannon. My many thanks to all my colleagues and friends that have contributed to my 2010 columns all year long by exchanging emails, chatting, gossiping, sharing meals, work, fun and ideas. Thank you all.
2011 January blog: Fabio Gomes
Respond below please