February blog
Fabio Gomes
This month I bring you some more Brazilian traditional cuisine. Then I tell sad stories of celebrity cooks and marketing practices. After that I have more to say about the environmental impact of ultra-processed products. Finally, this February 'Joke of the Month' comes to you from General Mills.
Culinary tradition
Tutuzinho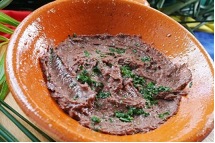 As promised last month, this year I'll be bringing you more culinary tradition. The dish this month comes from what was eventually over 350 years of the Brazilian colonial period. It illustrates the mixture of my country's cultural roots. The painter Jean-Baptiste Debret took part in the French mission to Brazil in 1815. Here below is his drawing of a coffee plant, with the coffee berries.
He reported in his notes: 'The humble dinner of the small trader and his family is comprised solely of a piece of dried meat... they cook it in plenty of water with black beans... To the full pot with this broth, in which the beans swim, they add a great pinch of manioc flour, which mixed with the mashed beans, forms a paste'. The photograph above shows what it looks like.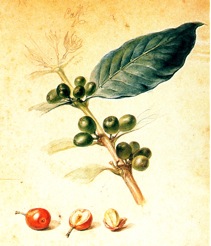 During the colonial period foreigners learned to be delighted by traditional Brazilian dishes, which characteristically combined European, native and often also African ways of preparing food. This very tasty combination above, known as tutu, is still esteemed and enjoyed in Brazil. Its secret is simplicity: Beans, onions, garlic, manioc flour, a bit of pepper, some herbs, and also dried meat (if you like, this is not essential). That's it.
Readers have been enjoying the verses I bring you monthly so I'll keep up with them this year. As we approach Carnaval in Brazil, this month the carioca writer Fátima Miguez delights us with a carnival march:
Filled with beans
(Tutuzinho de feijão)
Who makes me this way...
(Quem me deixa desse jeito)
this way...
(desse jeito)
throbbing the heart
(batucando o coração.)
You, you, you,
(Tu, tu, tu,)
Tutuzinho of beans!
(Tutuzinho de feijão!)

Ultra-processed eating
Packaged cooking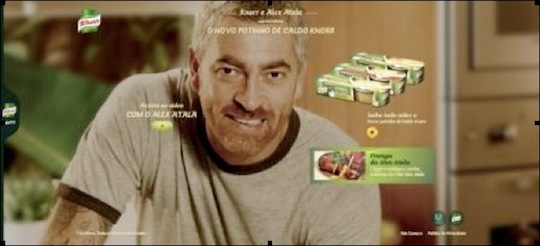 In this item I bring you an example of a bad advertisement practice from a transnational food company in Brazil. At the same time this story lets me show how the industry self-regulation scheme in Brazil is ineffective. Big Food has been very successful in ruining the act of preparing our own food. It has done this in part, by packaging ultra-processed ready-to-heat products and marketing them as if they are as wholesome as our grandma's treats. Cooking and sharing the same pot has been put down as boring, old-fashioned, complicated, while taste, smell, texture have been standardised, plasticised and packaged by industry into ready-to-heat and ready-to-eat products. At the same time, in many parts of the world cooking has been transformed into an art for the rich, and as fancy, glamorous, and sexy. This has involved the rise of the 'celebrity chef', and the internationally publicised recipe writers.
So just as some scientists work in the service of Big Food, some famous gastronomes and chefs have been hired by industry to say that their secrets are at peoples' fingertips, inside the packages of ultra-processed products manufactured by the company who pays them in response to them no doubt sincerely saying such things. Those who succumb to the great offers from industry are helping them to push the process of 'de-ritualisation' of meals, the homogenisation of culinary tradition and art, and the withering of family and other human interaction at meal times.
This transforms eating into the equivalent of a pit stop in which automobiles are filled with the same standard fuel as fast as possible (1). Unilever, for instance, have gone deep into packaging cooking by creating the Centre of Culinary Expertise Unilever which has as its official mission: 'To be a centre of expertise in the world of culinary to support the innovation, reformulation and activation of Unilever Foods' brands…' (2). The Brazilian celebrity chef Alex Atala lends his charisma and fame to KnorrTM (a branch of Unilever) as you can see above. In the advertisement, which you can check by clicking here (only in Portuguese) he says that he cooks 'for people with the most demanding tastes. The pressure is not easy. The secret of a plate is in the broth, which is the heart of the recipe. Take a look: the new little pot of Knorr broth, just like the homemade version. Here everything is natural…' And so on.
PROTESTE, the Brazilian Association of Consumers Defence, thought that this advertisement was absurd. At the time of its launch in July last year they denounced it to the Brazilian Self-Regulation Advertising Council (CONAR). CONAR was created by advertisers to implement and monitor the Brazilian self-regulation code convened by themselves. For this reason they always strongly oppose any sort of statutory regulation, arguing that their code is completely enough and effective.
So to give you a sense of how ineffective it is in fact, take a look at their decision on this request from PROTESTE to withdrawn the KnorrTM advertisement. The CONAR official responsible for this pathetic judgement did allow 'the possibility that the consumer is being misled'. He concluded that he thought it was important to wait for 'technical documentation that may widen my (his) view in this procedural phase.' (2). Meaning what? The advertisement is still available. Here is yet another example of why industry self-regulation of food advertising and marketing does not work in the public interest.
References
Ritzer, G. The McDonaldization of Society. California: Pine Forge Press, 1996.
Food marketing to children
Killing a lion a day
Another case of troublesome food advertising had a different ending. On 21 October 2008 the Brazilian public interest organisation Instituto Alana denounced the food and drink manufacturer Dr. Oetker for showing on the internet an objectionable advertisement targeted at children. Here is a scene, above. The promotion, called Zoobremesas (Zoodesserts) offered children backpacks in the shape of an animal, conditional on consuming five of their products (it could be any of Dr. Oetker's products. However, sweets were specially encouraged, as the name of the promotion suggested).
As well as pushing food consumerism, the promotion was also pushing children to disrespect authority, according to Instituto Alana. Two years later, Dr. Oetker (Brazil) was finally fined R$ 105,493.33 reais (approximately $US 60,000) (1). The website was also turned off and is no longer available.
This is one example of success, and of the impact well-organised Brazilian society can have in upholding public health nutrition. But as things are, such successes are little battles won in a war that is being lost. We are still a long way away from proper discouragement of abuses by means of statutory regulation. We still need decisions to be taken faster (this successful action took two years to be concluded) and fines to have more impact. Also, a fine of $US 60,000 is not a big deal for a company of the size of Dr. Oetker. It is probably worth it for them to have a powerful advertisement available until someone complains and during the long time when any decision to withdraw it is still under process).
Reference
Ritzer, G. The McDonaldization of Society. California: Pine Forge Press, 1996.
Ultra-processed products. Environmental impact
Consuming the planet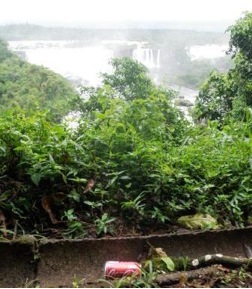 In my December column I proposed that it's not enough to increase the recycling of bottles, cans and packages. We also need a message saying 'consume packaged, canned and bottled ultra-processed products occasionally if at all'. Maybe this would also encourage consumers to be more thoughtful. As it is, what remains of such products after they are consumed ends up not only in dumps, but also in sacred sanctuaries of nature such as the Iguaçu Falls in Paraná, Brazil, as you can see in the picture above. While I was visiting the Falls, one of the most amazing sights on earth, contemplating the wonders of nature, I was distracted by this depressing example of disrespect. Perhaps it's inevitable. Dumping bottles, cans and packages is thoughtless – and so is grabbing them from supermarket shelves.
That also reminds me the times when it was embarrassing for a non-smoker to ask smokers not to smoke in a closed facility in Brazil. Nowadays, in the new social order conceived by strong public policies with great support from civil society, it is smokers who are embarrassed. Who knows? Maybe one day the pressure from Coca-Cola company and PepsiCo, exerted through all kinds of aggressive marketing practices on people to become Coca-Cola® or Pepsi® consumers, will be countered by a social movement that will push non- and former-consumers to support Coca-Cola® and Pepsi® current consumers to quit. They can do this by pointing out the harm Coca-Colars and Pepsiers are exposing themselves to, and the harm to human health and the planet they are financing by consuming Coca-Cola® and Pepsi®.
Joke of the month
Cook books gather dust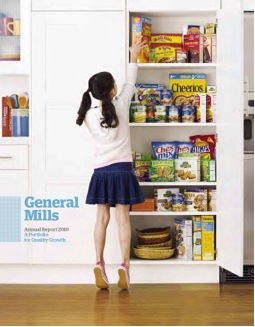 Big Food and Big Drink are putting a lot of energy and money into projecting themselves as angels. This is response to what they feel about their demonisation, because of their impact on the planet and on human health. One result is the International Food and Beverage Alliance (IFBA). This seems to be dedicated to pledging to move towards business as usual. As stated in their website, the 'Alliance member companies represent the global leaders of the food and non-alcoholic beverage industry. They had combined annual revenues in 2009 of more than $US 350 billion and a presence in more than 200 countries worldwide'. This means that we are dealing with a multinational entity, whose combined turnover, if compared with national gross national products, would be ranked as the 27th biggest economy of the world, just below Austria and South Africa, and well above Finland and Portugal. You can check the members of the IFBA here. Its main purpose, as far as I can see, is to create a good-guy image for its members.
Let's take some examples: this month, General Mills. The cover of its latest annual report is shown above. Perhaps the company hopes to be heading for heaven on the wings of their Angel Food Cake Mixes®. The headline of the annual report is 'A portfolio for quality growth'. Indeed, their high energy-dense products, such as the ones you can see in the picture, are likely to be contributing to the growth of weight in their regular customers. Even products they identify as 'salad' have an energy density of over 300 kilocalories per 100 grams (1). The company's big sellers, identified as Big G cereals, in 2010 in the US made $US 2.4 billion of their total $US 10.3 billion net sales. The Big G cereals include Cheerios® (energy density 357kcal/100g), Wheaties® (energy density 370kcal/100g), Cinnamon Toast Crunch® (energy density 419kcal/100g), Lucky Charms® (energy density 407kcal/100g), as well as Fiber One® (energy density 200kcal/100g) (2).
Now, look again at their annual report. Almost out of sight on the left on a shelf, there is a cookbook. Is it there to give a subliminal impression of freshness? But General Mills policy surely is that all cookbooks can gather dust. Observe all the products in the open larder, starting with the ready-to-eat breakfast cereal that the teenager (slim, of course) is stretching up for. They are mostly already-to-eat or ready-to-heat, or else merely need the addition of milk, water or the simplest additional ingredients as specified on the packets themselves.
General Mills's top product Cheerios® has its own special website with tabs for families, adults, kids and new parents. Check the new parents tab. It says that if you are a soldier on your first tour of duty, just let General Mills know the age of your child and they will provide you all the food guidance you need.
I checked the guidance for infants and young children. The site respects the UN code on exclusive breastfeeding up to 6 months. But here is what it tells parents for 6-9 month-olds. 'From 6 to 9 months, your baby is ready for solid food. This can be an exciting time for both of you! But where to start? Experts agree that baby cereals are an ideal first solid food, especially rice cereal that contains iron. Baby cereals have the ingredients needed to balance nutrition for your baby. After your child is eating cereal, you can introduce other baby foods like applesauce and pureed or mashed cooked vegetables'.
So what is this all really saying? Let's have a little fun with the message of General Mills. As trained soldiers you should follow the order to start feeding your 6-9 month-old children by giving them ultra-processed baby cereals. (Check Carlos Monteiro's commentary in the January issue of World Nutrition for more examples of ultra-processed products). So after you recruit your children to join General Mills' army, you may give them mashed cooked vegetables, but only after they are ready for battle fuelled with ultra-processed products. These will 'keep fresh' for longer (because of not being fresh in the first place) while they are in the front line.
References
Acknowledgement and request
You are invited please to respond, comment, disagree, as you wish. Please use the response facility below. You are free to make use of the material in this column, provided you acknowledge the Association, and me please, and cite the Association's website.
Please cite as: Gomes F. Tutuzinho, and other items. [Column] Website of the World Public Health Nutrition Association, February 2011. Obtainable at www.wphna.org
The opinions expressed in all contributions to the website of the World Public Health Nutrition Association (the Association) including its journal World Nutrition, are those of their authors. They should not be taken to be the view or policy of the Association, or of any of its affiliated or associated bodies, unless this is explicitly stated.
This column is reviewed by Geoffrey Cannon. Thanks to Carlos Monteiro for sending me the news on Knorr and Alex Atala. Thanks and congratulations to Instituto Alana for the Dr. Oetker process. Many thanks for the suggestions sent by readers that don't want to be identified here.
February blog: Fabio Gomes
Respond below please